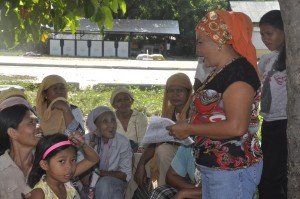 ISULAN, Sultan Kudarat – The scorching heat of the sun blazes down from a cloudless sky in the middle of the day. Baiton Uy, however, was undeterred, even as sweat freely flowed down her back as she patiently waited for hours by a ticket booth beside the dusky road just to get a free ride to town.
It is because of this that she earned several nicknames from her fellow residents. Some called her "Para Girl (The Girl Who Hails)". Others dubbed her "Babae sa Ticket Booth (The Girl by the Ticket Booth)". The most common name that she is known for, however, is "Riding in Tandem Girl".
Despite these monikers, particularly the last one, Baiton is no criminal and is not engaged in any illegal activities. On the contrary, her hitchhiking is actually being done by her so she can do something inspirational: to serve her community as a volunteer of Kapit-Bisig Laban sa Kahirapan Comprehensive and Integrated Delivery of Social Services-National Community-Driven Development Program (KALAHI CIDSS-NCDDP), one of the programs of the Department of Social Welfare and Development (DSWD).
Hitchhiking for a cause
KALAHI CIDSS-NCDDP is a program that seeks to help alleviate poverty through the community-driven development (CDD) strategy, which puts power back in the hands of the people by giving them the opportunity to make informed decisions on locally identified options for development and manage resources to implement sub-projects that address needs identified by communities themselves.
The residents of Barangay Laguilayan, including Baiton, identified the construction of a day care center as their chosen sub-project which will be implemented through KALAHI CIDSS-NCDDP.
As a CDD program, KALAHI CIDSS-NCDDP provided the residents the opportunity to form groups that will work on their sub-project. Baiton, as one of the volunteers, became part of the Procurement Team.
As part of her responsibilities, Baiton was required to visit service providers and suppliers to canvass and follow up on the materials they needed to construct their day care center. Furthermore, she was also called to attend meetings together with other KALAHI CIDSS-NCDDP volunteers.
Unfortunately, Baiton had limited budget, so she had little money to spare for transportation to get and from Sitio Kamanga, a remote community 15 kilometers away from the town proper where she lives. However, she did not allow this problem to hinder her from performing her tasks. Instead of giving up, she instead decided to hitchhike from passing vehicles to bring her to and from her meetings.
"Lahat ng dumadaan na sasakyan pinapara ko para makiusap na pasakayin ako, makarating lang sa munisipyo (I hail passing vehicles to beg them to allow me to ride with them just so I can get to the municipality)", she said, the seriousness of her narration softened by the smile on her face.
She was able to hitch a ride with different vehicles throughout the course of her volunteer work that she ended up having favorites.
"Kadalasan, ang paborito ko ay iyong mga malalaking trak na dumadaan dito na may dala-dalang mga bato at buhangin (My favorite ride is those heavy trucks carrying sand and gravel)", Baiton said, referring to the vehicles that bring said materials from the quarrying site at a neighboring village.
Other times, she found herself riding at the back of those motorcycles that come to their village to deliver bread and other products, and this led to her earning her "Riding in Tandem Girl" moniker.
Baiton simply laughed off this nickname, even as she chuckled as she narrated another source of amusement of her.
She said, "Minsan mapagkamalan din akong asawa ng nagadeliver ng mga tinapay na masakyan ko. Hehehe! (I am sometimes mistaken as the wife of the delivery men)", accompanied by peals of laughter.
The best gift for children
Baiton might poke fun at her situation, but her positive outlook belies the difficult situation that the children of Barangay Laguilayan were faced with prior to the entry of KALAHI CIDSS-NCDDP.
The village had no actual day care center to speak of. Pupils transferred from one venue to another, depending on the availability. The one that was used at the time Barangay Laguilayan chose the implementation of a day care center through KALAHI CIDSS-NCDDP was an old, dilapidated structure. Parents constantly feared for the lives of their children, believing that the run-down building would collapse whenever strong winds blow.
As an elementary drop out, Baiton knew just how important education is. She considers this as the best gift that can be offered to children. She believes that the classroom is the heart of any educational system, as the physical structure can make or mar the learning environment, thereby affecting the quality of education as well.
"Nakita ko na mahirap talaga kapag walang maayos na classroom ang aming mga bata (I saw just how difficult it is for the children if they do not have a decent classroom)", Baiton said.
This, and seeing the difficulty experienced by the day care pupils, prompted Baiton to serve as a KALAHI CIDSS-NCDDP volunteer.
Time as the only available resource Baiton candidly said that she had not much to offer in terms of knowledge and resources, which is why she said she offered her time instead.
That is not to say that she had a lot of time to spare. She has to care for months-old baby, even as she has to find ways of feeding her family, no small feat considering that her husband is only a seasonal laborer and their household is one of the poorest in the village.
She is also a Pantawid Pamilyang Pilipino Program Parent Leader. Her family receives P2, 200.00 a month, which she uses to ensure that her school-aged children remain in school and that their health needs are seen to. She says that the conditional cash transfer has been a big help in the program, given just how poor some of the families are in the village.
Efforts paid off
Baiton's and the other KALAHI CIDSS-NCDDP volunteers' hard work paid off. Today, the newly constructed day care center, bursting with fresh colors, complete with learning equipment, and most importantly, safe and conducive for learning, stands as a symbol of sacrifice, of unity, and of pride of Baiton and the rest of volunteers.
Baiton just smiles every time she remembers her experiences as a volunteer, especially when she reminisces her time as "Riding in Tandem Girl", because what was initially a source of shame for her became something that she was proud of.
"Noong una nahihiya ako pero noong kalaunan na nalaman nila ang pagiging volunteer ko, natutuwa sila (At first I was ashamed, when the people found out about my role as a volunteer, they were inspired)", Baiton said with a smile.
Baiton now embraces the "Riding in Tandem Girl" nickname. According to her, the driver is the community and she is at the back, providing support as a volunteer who is gunning for change and development, and one who is selflessly rendering services for the betterment of other lives without expecting anything in return.
Baiton's riding in tandem stunt may not be a crime, but even if it were, it seems that she would still choose to do this again and again for the sake of her community. ### (HILBERT T. ESTACION)