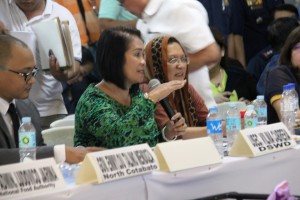 Some areas in SOCCSKSARGEN have been experiencing drought due to the El Niño phenomenon.
Usec. Vilama B. Cabrera and Dir. Bai Zorahayda T. Taha, Regional Director of DSWD XII attended the Committee on Justice and Human Rights to talk about the Kidapawan incident.
Senator Allan Peter Cayetano complimented DSWD Field Office for using their QRF – Quick Response Fund in responding to the Kidapawan incident.
Usec. Cabrera informed the committee that there are 93 injured PNP: 3 female and 90 male, 48 injured rallyists; 19 female, 25 male and 4 older persons, and 82 emotionally distressed and rescued. Also, Cabrera confirmed that from the rallyists, there are 3 pregnant women and 3 senoir citizens, and 2 were confirmed dead in the incident namely: Enrico Fabligan of President Roxas, North Cotabato and Darwin Sulang of Arakan, North Cotabato.
"Since October 2015, the DSWD has released a total amount of Php 599,919,584.00 worth of assistance to Local Government Units for the affected families," Secretary Corazon Juliano-Soliman explained.
Food Assistance to the El Niño Affected Families
The distribution of food assistance shall be released in coordination with the Provincial/City/Municipal Social Welfare Development Office (P/C/MSWDO) of each area.
A total of 65,798 family food packs were provided to the El Niño affected families amounting to Php 23,687,280.00. Out of this, 20,495 food packs for South Cotabato, 40,728 food packs for North Cotabato, and 4,575 food packs for Sultan Kudarat.
Field Office XII remains in close coordination with the P/C/MSWDO of SOCCSKSARGEN for the immediate release of rice allocation per LGU.
Cash for Work under CCAM – Climate Change Adaptation and Mitigation
As of March 22, 2016, a total of Php127,920,450.00 worth of assistance or 63,015 beneficiaries for Region XII were granted with Php 2,030.00 for 10 days at Php 203.00 per day which is for the implementation of Cash-for-Work under the Climate Change Adaptation and Mitigation (CCAM). Of the total amount provided, South Cotabato with Php 27,976,310.00 for 13,777 beneficiaries in 11 LGUs, North Cotabato with Php 50,252,650.00 for 24,755 beneficiaries in 18 LGUs, Sultan Kudarat with Php 31,641,610.00 for 15,587 beneficiaries in 12 LGUs, and City of Cotabato and General Santos with Php 18,058,880.00 for 8,896 beneficiaries in 2 cities.
The province of North Cotabato, Sultan Kudarat and the city of Cotabato and General Santos have fully accomplished their Cash for Work activities with 100% while the province of South Cotabato has finished 99.98% of their activities.
To date, 63,015 beneficiaries with 99.99% out of the total target of 63,018 beneficiaries have been served.
Services and Interventions in Kidapawan Incident
DSWD Region XII has also extended a total 2,645,000.00 worth of assistance to Kidapawan Incident. The said total amount is composed of 6,000 family food packs that were released directly to the beneficiaries in coordination with the CSWDO of Kidapawan, 500 family food packs were distributed by Ms. Rosemarie C. Alcebar, SWAD Team Leader together with the Municipal and Provincial Links of North Cotabato, and 1,000 hygiene kits were released directly to the beneficiaries in coordination with the CSWDO of Kidapawan.
Total Aid
Likewise, DSWD Field Office XII also provided financial aid to 175 individuals in North Cotabato amounting to Php 347,000.00. Director Taha said that "families of the confirmed dead were given Php 5,000.00 each, 85 injured individuals were given Php 3,000.00 each, and 82 distressed and rescued individuals were given Php 1,000.00 each.
Ms. Norhata C. Benito, Head of Risk Reduction and Management Section, said that DSWD Field Office XII has initially allocated 55,000 bags of rice for the El Niño affected families in Region XII and ARMM – Lanao and Maguindanao. Of the total bags of rice, 10,000 bags of rice each for North Catabato, South Cotabato, Maguindanao and Lanao del Sur, and 5,000 bags of rice each for General Santos City, Sarangani, and Sultan Kudarat. Ms. Benito added that the distribution shall be 5 kilos of rice per family multiplied by the total number of affected families.
Ms. Benito added that the region has a preposition stockpile of 30,000 family food packs and 3 million standby funds and is available at any given time.
By: Salahuddin Macacuna AbdelGafur
Social Marketing Officer