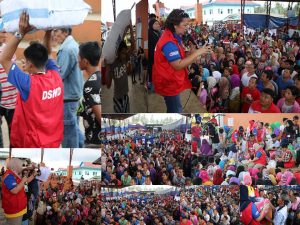 SAGUIARAN EVACUATION, Saguiran, LDS – The Department of Social Welfare and Development Field Office XII augmented a total of 561 food and non-food items to all the internally displaced persons (IDP) staying inside the Evacuation Centers of Saguiaran, Lanao del Sur.
The Local Government of Saguiaran has identified 8 evacuation centers which consist of the Covered Court Evacuation Center, People's Plaza Evacuation Center,
MSU Saguiaran Evacuation Center, Pantao Raya Madrasa Evacuation Center, Lumbacaturos Madrasa Evacuation Center, Pantaon Primary school Evacuation Center, Bubong Elementary School Evacuation Center, and Maito Basak Elementary School Evacuation Center.
The food and non-food items were given to each family staying inside the evacuation centers. The said items were comprised of 1 family food pack with 6 kilos of rice, 4 sardines, 4 corned beef, 5 coffee sachets, 6 energen sachets, and 2 malong, 1 hygiene kit and 1 mosquito net.
DSWD targets to give relief assistance to all IDPs both inside and outside evacuation centers. Norhata C. Benito, Head of DRRMS assured all 'bakwit' or evacuees that "tomorrow, June 19, 2017, the team DRRMS shall do a house-to-house validation and will release family food packs to all home-based IDPs".
"For those home-based IDPs without Disaster Assistance and Family Access Card (DAFAC), they will be visited in their respected barangays and DSWD Social Workers will get their information in accomplishing the DAFACs. This is to ensure that both inside and outside evacuation centers will have its own DAFAC to avoid duplicity and ensure efficient and systematic release of goods" she added. ###