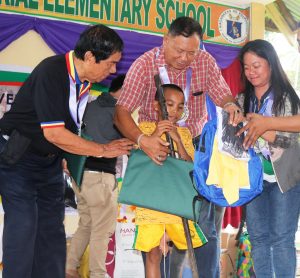 KALAMANSIG, Sultan Kudarat—For 6th grader Jolito Dalud, a 13-year-old Manobo kid with an inborn physical disability, going to school is like an ordeal.
Jolito, born with crippled left foot, together with at least 60 Manobo children in a far flung sitios of Limulan village, has to deal with two hours of trekking hills, risking their lives in the process for they need to cross rivers, before eventually reaching school.
"Ginakarga lang ako nila kung magtabuk kami sa sapa o kung kapoy na ko kaayo maglakaw," (They used to carry me every time we have to cross rivers or walking becomes unbearable for me) Jolito while holding his crutch, said.
Few meters away from school, Jolito and other Manobo children jostle for space in a small makeshift shanty with woven bamboo slats at the top of the hill, serving as temporary shelter for them.
Things started to change when DSWD 12, local government unit of Kalamansig and local officials and volunteers of Limulan have collaboratively worked to address the struggles of Manobo children of Limulan.
A newly-built Kalahi-CIDSS IP Youth Shelter Project worth P1.91 million with ameneties is now serving as a home away from home for Jolito and 60 other Manobo school children in Limulan village.
"Mas ganahan na kami mu-eskwela kay lami na among estaran ug dili na me kinaghanglan mulakaw adlaw-adlaw," (Our new shelter encourages us to study harder and that we don't need to trek daily going to school," Jolito said.
Aside from youth shelter, Manobo school children are also the beneficiaries of DSWD 12 donation drive dubbed as "Summer to Remember". Through the initiative, they received school supplies, uniforms, bags, kitchen utensils, beddings, and other necessities to be used while in school.
The have also received clothes, shoes, and books and other donated materials that are good for schools from various individuals and organizations.
Moreover, the agency has also extended an educational assistance worth P30, 000.00 for 60 Manobo school children through the aid to individuals in crisis situation (AICS).
"The various support extended, especially the Kalahi-CIDSS IP youth shelter project, are great encouragement for our Manobo school children who are struggling going to school because of the distance and the lack of facility to lessen their burden while in school," Arnel P. Acuña, Teacher In-Charge of FB Concha Elementary School in Limulan village.
Gemma N. Rivera, the DSWD 12 assistant regional director said that the agency continues to provide assistance to various sectors including the Indigenous Peoples, especially in the remote villages in the region through various programs and services like Kalahi-CIDSS.
Kalahi-CIDSS is one of the poverty-alleviation programs of the national government that is being implemented by the DSWD.
The Program utilizes the community-driven development (CDD) approach, which enables communities in targeted poor and disaster-affected municipalities to identify their own needs, and collectively implement and manage solutions to these needs.
For Jolito, the feeling that there are people and organizations that are rallying behind them in their quest for higher education and despite the physical disability, going to school now is a far cry of being an ordeal for him. (HILBERT T. ESTACION, regional social marketing officer, DSWD-12)