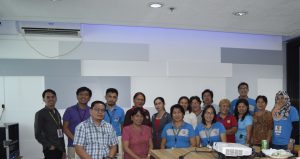 KORONADAL CITY – The Listahanan of the Department of Social Welfare and Development conducted series of orientations on the Guidelines in Sharing the Data Generated from the Listahanan 2 to all social protection stakeholders in the region
The National Household Targeting Office (NHTO) of the Department of Social Welfare and Development has finally acquired the approval from the National Privacy Commission (NPC) to proceed with the execution of any data sharing agreement with social protection stakeholders.
With the enhance Memorandum of Agreement on Data Sharing, it has determined that it is compliant with the provision of the Data Privacy Act, its IRR, and NPC circular No. 2016-002 on Data Sharing involving Government Agencies.
Additionally, DSWD Former Secretary Judy M. Taguiwalo has already approved and signed the concomitant Guidelines on the Sharing of Data generated from the Listahanan 2 database that will help the Department in ensuring the protection and security of sensitive personal information of data subjects.
Maslama B. Hassan, Region Field Coordinator in Region XII shared that "It is provided under section 6.12.3a of the said Guidelines that "Data Sharing shall be facilitated by the DSWD Regional Offices through the NHTU at the level of the Provincial Government and City Government of Highly Urbanized Cities (HUCs). Data requests from Provincial Governments shall include the consolidated data requirements of municipalities and component cities under its political jurisdiction". It is provided further under Section 6.12.3b that "the Provincial Government shall facilitate the release of data needed by the municipalities and cities under its political jurisdiction."
"Existing agreements to access data from the Listahanan 1 are deemed revoked" Hassan added.
In 2015, it can be recalled the DSWD conducted the house-to-house assessment to get the socioeconomic information of the households. This resulted in the identification of 360,395 poor households out of the 805,379 total assessed in SOCCSKSARGEN Regions (as of December 3, 2016).
To request the list of poor households including their personal information, the following documents are needed along with the letter of request addressed to the Regional Director:
Local Government Units (LGUs)
Signed MOA (Governor/Mayor)
Sangguniang Panlalawigan/ Bayan Resolution
Executive Order designating a Provincial/City/Municipal Data Privacy Officer
National Government Agencies (NGAs)
Signed MOA with designated Data Protection Officer
Civil Society Organizations (CSOs)
Signed MOA with designated Data Protection Officer (DPO)
Board Resolution (original copy)
Valid proof of identification of agency head and DPO
SEC Registration
Members of the Academe
Data sharing shall be limited to raw data and statistics
The letter of request from researcher/professor/research adviser and vouched by the Dean or any school authority
As specified in the guidelines, all stakeholders requesting access to the list of poor are required to designate at least one (1) Data Protection Officer who will oversee the use, security and protection of the data.
Furthermore, data users shall submit to the DSWD reports on how the data were utilized including if these were shared with other data users.
Listahanan, also known as the National Household Targeting System for Poverty Reduction (NHTS-PR), is an information management system that identifies who, where and how many poor are nationwide.###