MARAWI CITY — At least 5,783 returning families in this ruined city were provided assistance by the Department of Social Welfare and Development.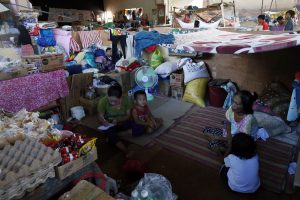 "We have nine barangays that were part of the first batch to be served. Some 5,783 families have already been given aid," DSWD 12 regional director Bai Zorahayda T. Taha said in statement.
Taha said returnee-families in the villages of Basak Malutlut, Marawi Poblacion, East Basak, Luksa Datu, Tampilong, Matampay, Datu Saber, Bo. Green and Panggao Saduc had received PHP59.24 million worth of family food packs, hygiene and kitchen kits and financial assistance.
She reported that the food packs, called "Kambalingan Package", could last up to two months. The initial package, which contained a sack of rice, 24 canned goods, 40 sachets of 3-in-1 coffee, and 2 kg. of pancit bihon, would be good for 17 days, she added.
The hygiene kits, according to Dir. Taha which cost PHP1,825 each, include a bucket, toothbrushes (three for adults and two for children), toothpaste, a bottle of shampoo, bath and laundry soaps, sanitary napkins, two combs, a shaving razor, and a nail cutter.
On the other hand, the kitchen kits, each costing PHP796, contained five sets of spoon and fork, plate and glass; a frying pan; a cooking pan; and a ladle each.
Taha said 10 more barangays are scheduled to receive aid soon — Bacold Chico, Lumbac Toros, Tuca, Toros, Pindolonan, Dayawan, Amito Marantao, Poona Marantao, Fort, and Bangun.
n May 23, the clashes flared up and started in the village of Basak Malutlut when soldiers and policemen moved to arrest Isnilon Hapilon, the acknowledged head of the Islamic State in Mindanao and on the list of US most wanted terrorist staying in one of the units of three stores apartment.
However, they were met by a big force of gunmen composed of militants from the Maute group, backed by an undetermined number of foreign fighters.
The fighting ended with 920 militants killed while 165 on their side. Forty seven other civilians were slaughtered by militants.
President Rodrigo Roa Duterte earlier declared the five month siege over after soldiers killed  on October 16 Isnilon  Hapilon, the purported emir of ISIS in Southeast Asia and Omarkhayam, one of the leaders behind the Maute Terrorist.
Dir. Taha said around 77,170 families or 353,636 individuals evacuated from Marawi when fighting broke out.
As of November 16, she said 4,668 families or 20,639 individuals are still in evacuation centers, while an estimated 75,502 families are living with relatives. (End)