COTABATO CITY, Jan. 12 — The Department of Social Welfare and Development 12 thanked Friday Washington for US$6.6 million funding to support tens of thousands of people affected by last year's five month war in Marawi City in Lanao del Sur.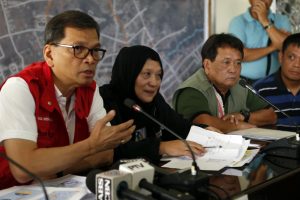 Bai Zorahayda T. Taha, DSWD 12 regional director, described the financial assistance from United States a big help for the people who are still recovering after the armed confrontation last year.
Taha said around 18,478 families (92,390 people) have returned to Marawi since President Rodrigo Roa Duterte declared the city liberated from terrorists control.
"We appreciate the assistance coming from US," Dir. Taha said.
Earlier this week, U.S. Ambassador to the Philippines Sung Kim said Tuesday the allocation, channeled to through the United States Agency for International Development (USAID), will provide opportunities for young women and men to enhance job skills and attain livelihoods, helping stimulate the economy.
"This new funding will support some of the most vulnerable populations affected by the conflict," Kim said.
"The United States is deeply committed to supporting our friend and ally in long-term recovery efforts to ensure a brighter and more peaceful future for the people of Mindanao," he added.
Kim said their new funding for Mindanao will also help vulnerable populations strengthen positive engagement within their communities
The U.S. government, through USAID, has been a key partner with the Philippine government in the recovery, stabilization, and rehabilitation of Marawi City and the surrounding areas.
Dennis Domingo, DSWD 12 information officer, said there are evacuees in Marawi City who will benefit from the US programs included in the government's conditional cash transfer program.
Under CCT, children aged 3 to 18 have to stay in school and maintain class attendance of at least 85 percent each month. Pregnant women are also required to avail pre- and post-natal care, and delivery must be assisted by skilled health personnel, while parents are mandatory to take "family development sessions" to enable them to become better parents. (End)