MARAWI CITY, Jan. 30 — President Rodrigo Roa Duterte will lead today the distribution of certificates of occupancy of transitory shelters for residents affected by last year's armed confrontation in this city.  
Bai Zorahayda T. Taha, regional director of Department of Social Welfare and Development 12, said around 400 families will be given certificate of acceptance at Sagonsongan village when the President arrives at 2:30 p.m.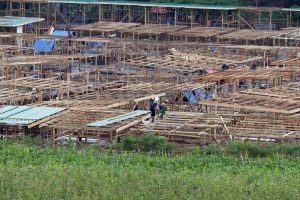 "There will be one ceremonial distribution but the rest will also get their certificates within the day," Dir. Taha said. 
Jackiya Lao, DSWD assistant regional director for administration, said each of the 400 families were already provided with Kambalingan Packages that include Php 5,000 cash, one sack of rice, groceries, hygiene and kitchen kits.
On May 23, 2017, clashes flared up when soldiers and policemen moved to arrest Isnilon Hapilon, the acknowledged head of the Islamic State in Mindanao and on the list of US most wanted terrorist staying in one of the units of three stores apartment in Marawi.
However, they were met by a big force of gunmen composed of militants from the Maute group, backed by an undetermined number of foreign fighters.
Nearly half million people were affected, mostly covered by DSWD programs like the conditional cash transfer program.
President Duterte declared Marawi liberated from terrorists controll on October 16 after troops killed all the leaders of pro IS militants, including Hapilon. (End)