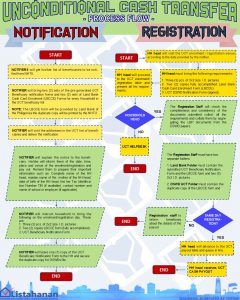 SOCCSKSARGEN – The 146,264 Listahanan identified poor households in SOCCSKSARGEN provinces after being validated and identified as UCT beneficiaries shall finally undergo the process of notification and registration.
"The staff of the National Household Targeting Unit (NHTU) together with the newly created UCT-Regional Project Management Office had started training the UCT Notifiers to be assigned in different areas in the region," Director Bai Zorahayda T. Taha said.
Taha added that based on the result of the meeting with the Managers from the Landbank of Philippines operating within the region, there were identified municipalities to be the subject as pilot areas for UCT-Listahanan's notification, registration and pay-out.
In additon, out of the Listahanan identified poor households as UCT beneficiaries in SOCCSKSARGEN provinces, 57,374 households are from the province of North Cotabato, 6,142 households from Cotabato City, 20,608 households from Sarangani, 29,562 households from South Cotabato and 32,578 households from Sultan Kudarat.
Before the end of the year, the Field Office XII aims to release the PhP 2,400.00 which translates to PhP 200.00 per month to the identified beneficiaries.  – Director Taha ended.
The UCT refers to the social welfare benefit under the Tax Reform for Acceleration and Inclusion (TRAIN) law or the Republic Act 10963 in the amount of PhP 200.00 per month in 2018; and PhP 300.00 per month in 2019 and 2020.