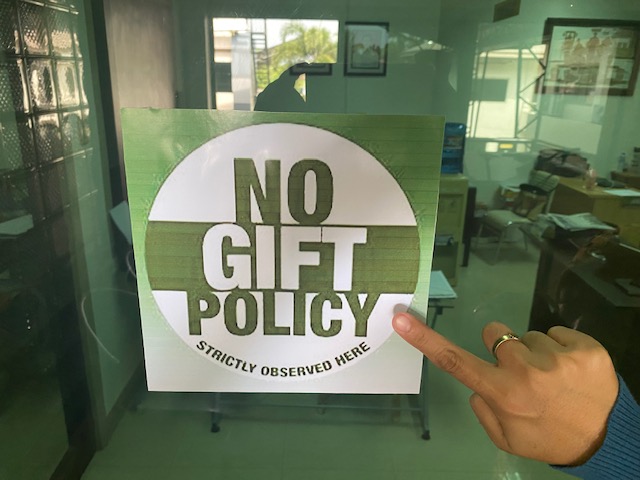 KORONADAL CITY — The Department of Social Welfare and Development (DSWD) reiterates its implementation of "No Gift Policy" among its employees in the region as part of promoting high standard of ethics and integrity as public servants.
This was announced by DSWD 12 Regional Director Cezario Joel Espejo, as he vowed for transparency in all transactions covered by the agency.
Cezario Joel Espejo, DSWD-12 regional director, said stickers with markings "No Gift Policy" were posted in all doors and strategic areas within the regional office, citing accepting gifts as rewards could lead to more abuse of power and corruption.
Dir. Espejo said the policy will remind workers under Republic Act No. 6713, or the Code of Conduct and Ethical Standards for Public Officials and Employees, which prohibits civil servants from soliciting or accepting gifts, favors, loans or anything of monetary value in the course of official duties.
Moreover, the agency chief cited the Republic Act No. 3019, or the Anti-Graft and Corrupt Practices Act, that prohibits public officers from "directly or indirectly requesting or receiving any gift, present, share, percentage, or benefit, for himself or for any other person, in connection with any contract or transaction between the government and any other party."
"I issued a directive to all employees to strictly observe the policy," Dir. Espejo said, as he urged the public to report any employee violating the directive. (JBM / DSWD)