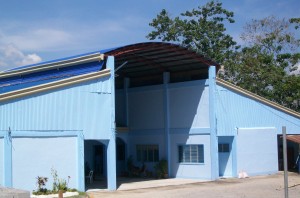 DESCRIPTION OF THE CENTER
The Regional Rehabilitation Center for Youth is a facility that provides a 24 hour care, treatment and rehabilitation services under the guidance of a trained staff where residents are cared for under a structured therapeutic environment with the end view of reintegrating them into their families and communities as well as to help them become socially functioning individuals.
Present address:
Noronia Hills
Purok 14, Poblacion,
Tupi, South Cotabato
General Objectives:
To provide CICL with treatment and interventions to enable them to improve their social functioning with the end goal of reintegration to their families and communities.
Specific Objectives:
1. Assist the CICL in gaining insight into his behaviors and attitudes;
2. Redirect behaviors and attitudes into more productive and constructive  ones;
3. Provide opportunities to acquire social and occupational skills and improved self-image; and
4. Enhance self-image and trust on others.
Target Clientele
The target clients are CICL aged above 15 and below 18 years old, who are ordered by the court to undergo rehabilitation at the DSWD facility.
Core Programs and Services
The core programs and services are highly preventive and rehabilitative in nature to prevent reoffending. These are the following:
1. Home Life Services/Group Living Arrangement
2. Treatment Interventions
a. Counseling Services
b. Milieu Therapy
c. Behavioral Modification
d. Therapeutic Community (TC)
3. Support Services/Interventions
a. Competency and Life Skills Development
b. Vocational Training Livelihood and Productivity Program
c. Socio-Cultural and Recreational Program
d. Spiritual Enhancement Program
e. Leadership and Skills Training
f. Medical and Dental Services
g. Community Volunteer Projects
Admission Requirements
1. Commitment Order from Court
2. Social Case study Report
3. 2 copies of recent 2 x 2 ID pictures
4. Birth Certificate
5. Medical Certificate
6. Copy of School Records