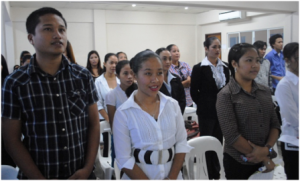 KORONADAL CITY – Some forty two scholars of Department of Social Welfare and Development XII and Technical Education and Skills Development Authority XII graduated from the Cash for Training Program (C4TP) and Training for Work Scholarship Program (TWSP) recently in STI College.
Said scholars started their classes last April this year after DSWD and TESDA identified them as eligible to receive the scholarship program which includes Commercial Cooking National Certification (NC) II under C4TP and, Career Entry for Software Developer JAVA NC IV under TWSP.
Zorahayda Taha, DSWD 12 regional director said, "I commend the efforts of these students to uplift their lives by gaining knowledge that would aid in their livelihood and employment."
Simber Joy Dela Cruz, STI College administrator announced that there is a 93% passing rate from this year's batch of scholars. She noted, "out of 45 scholars here in STI, we had 42 students who were able to complete their training course."
According to her, graduates of the cooking course can use all that they learned from their class for their future enterpreneurial endeavor while JAVA graduates can use it for their future employment especially in companies and establishments that need programmers and systems developers.
Out of 25 enrollees for commercial cooking, there were 22 students who completed the course. They were: Jackeline Alog, Erniel Aposaga, Sheila Binas, Catherine Calibayan, Melanie Casia, Kenth Clark Delfin, Camille Diaz, Haide Dolla, Netty Ehimplar, Clarizze Higan, Mary Ann Jugar, Clark Jencie Leal, Allura Mae Magno, Janeth Mhek, Percon Jade Nicolas, Krizel Kay Obenieta, Mary Charlene Paclibar, Jane Rose Pagdato, Jenny Rose Parcon, Charlene Roquero, Lady Lee Solis and Jocelyn Wanan.
In JAVA NC IV, the graduates were: Harold Bermudez, Cesar Ian Bernil, Edgar Mel Dacut, Bryan Dela Cruz, Rodel Esteban, Carlo Fano, Albert Galica, Roxanne Guibone, Abdul Guro, Allan Mamon, Shella Mae Miguel, Marlon Moralidad, Princess Jayncy Nunez, Raul Orbe, Drexel Pantua, Geoffrey Quinones, Paul Rey Sinoy, Filbert Tandog, Mary Joy Velasco, and Dominic Villegas.
Erniel Aposaga, a C4TP graduate thanked STI, DSWD and TESDA for the program. He said, "I am thankful for this opportunity and I thought that I was privileged to avail of the program especially for young people like us who belong to poor families."
"I thanked them most because of this opportunity to go to school again. We owe this also to our parents and loved ones who were very supportive of us and who despite our shortcomings have come to appreciate our efforts to learn, to dream and to complete this course," he said.
Aposaga and other graduates were few of the thousands of scholars who finished and will soon finish the DSWD-TESDA C4TP and TWSP which were all government programs to empower the youth and encourage them to join the productive human resource of the country.