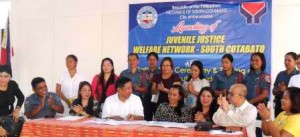 CITY OF KORONADAL – The Department of Social Welfare and Development Field Office XII lauded the provincial government of South Cotabato for being the first province in the country to organize the Juvenile Justice Welfare Network (JJWN), a special body under the Provincial Council for the Protection of Children (PCPC) that monitors the CICL database and formulates plans to ensure that the provisions of RA 9344 or Juvenile Justice Welfare Act of 2006 are implemented and followed.
Zorahayda Taha, DSWD 12 regional director said, "this initiative will further improve actions and interventions of the provincial government in protecting children's rights and welfare."
Dr. Arthur Pingoy, provincial governor issued recently an Executive Order creating the Juvenile Justice Welfare Network which specifies the role of the network and the functions of its members.
In his speech, Gov. Pingoy stressed that we need to ensure that the barangays, as well as municipalities are having a functional Barangay/Municipal Council for the Protection of Children (B/MCPC).
Atty. Marie Grace Eborde, provincial prosecutor and designated chair of the JJWN said, "we aspire to become active in ensuring that a comprehensive juvenile intervention program is implemented in the province."
"Part of our advocacy is the pushing for the family strengthening program as well as the construction of a building known as "Bahay Pag-asa", a youth home that provides rehabilitation and care for the children in conflict with the law," Eborde said.
During the press conference, Eborde explained that the network aims to establish uniformity and synchronized understanding of the RA 9344 provisions specially in handling their cases because part of the sanctions for CICL is undergoing the diversion program.
Naira Aratuc, chief of DSWD community based unit hoped that the organization of the network will not end here but will only be a beginning of continuous pursuit to respond to the needs of children particularly those children in conflict with the law.