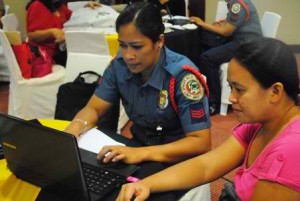 GENERAL SANTOS CITY – The Department of Social Welfare and Development field office 12 recently spearheaded the CICL profiling and data matching Thursday, here in a bid to review and sanitize data of Children in Conflict with the Law (CICL) both of PNP and local social welfare offices regionwide.
Representatives of local PNP and social welfare offices sat down and presented their existing data on CICL since 2006 and compared the data.
Naira Aratuc, chief of DSWD community-based unit said that the matched data will ensure the correctness and accuracy of CICL information.
She said, "this accurate information will help us out to anchor our plans and programs properly."
"We used a uniform template for each municipality in order to have an organized information as well as reports because soon, the regional office will require the regular submission of said document," Aratuc explained.
Mary Jane Martha Gabucan, social welfare officer of Koronadal City shared their best practices during the activity and encouraged colleagues to innovate initiatives like using forms or separate logbook exclusive only for CICL, to identify the case number.
"This coordination with our PNP led to easier tracking of CICL data," she said.
Gabucan also shared the joint monthly updating of CICL data in order to avoid confusion and ensure organization of information.
"When we know the status of our CICL, we can always remind ourselves in ensuring the progress of the case and consequently help fast track the processing of the cases," Gabucan said.