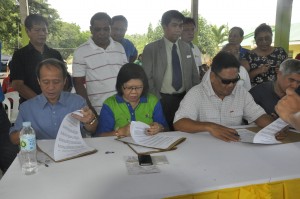 Koronadal City, South Cotabato—The Department of Social Welfare and Development in Region-12 has recently signed a partnership deal with the Technical Education and Skills Development Authority (TESDA) to provide community-based skills training for Pantawid Pamilya beneficiaries in towns of Maasim and Malapatan, Sarangani, an agency official reported Monday.
DSWD-12 assistant regional director Gemma N. Rivera said that the initiative is part of the agency's commitment to provide community-based capacity building through Sustainable Livelihood Program (SLP) to further improve the plight and condition of the Pantawid Pamilya beneficiaries in the region.
"The skills training is one way to empower our beneficiaries and as part of the agency's assistance towards gainful employment or self-employed activities for their sustainability after the short-term assistance through Pantawid Pamilya," Rivera said.
Rivera added that at least 375 Pantawid Pamilya beneficiaries are set to undergo skills training including Massage Therapy, Nail Care, Fish Processing, Banana Chips Making, Housekeeping, Food Preparation, Carpentry and Masonry.
The beneficiaries, according to Rivera, will undergo from 7 to 25 days of training depending on the course qualification chosen, which will be simultaneously conducted in two towns until November.
Meanwhile, Noraida M. Busran, Regional Project Coordinator of agency's Sustainable Livelihood Program (SLP) in Region 12 revealed aside from the skills training, the beneficiaries will be provided with post-training assistance to facilitate employment and entrepreneurial initiatives.
"With the help of local government units, TESDA, business sectors and other agencies our assistance does not just end after skills training. We have to synergize our efforts to pave the way for them to become future entrepreneurs or employees in which we believe an as ultimate way out of poverty," Busran added.
Busran revealed that the agency has also signed partnership agreement with Sarangani Energy Corporation for the provision of classroom facilities, equipment and other assistance for Carpentry and Masonry in Maasim. The said company also committed to help qualified trained beneficiaries to be employed in their different projects after training completion.
Along with the Pantawid Pamilyang Pilipino Program (4Ps), Kapit-Bisig Laban sa Kahirapan Comprehensive and Integrated Delivery of Social Services (Kalahi-CIDSS), the Sustainable Livelihood Program (SLP) forms part of the three-pronged anti-poverty convergence programs of the national government that are implemented by the DSWD.
SLP is a multi‐stakeholder program that aims to improve the socio‐economic status of beneficiaries particularly of Pantawid Pamilya to generate greater impact on poverty reduction. ### (Lorraine Blanza, External Relations Officer, Sustainable Livelihood Program, DSWD-12)