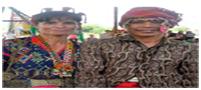 COLUMBIO, Sultan Kudarat— As the sun peeked from the mountains, casting its first rays on the small village of Maligaya, Julieto Marating, 48 years old and the B'laans' community tribal chieftain, and his partner Elena knew that the morning was special, quite unlike the other Monday mornings they have seen.
The sun's steady rise revealed the village in a spirit of celebration, and not just because it was a beautiful day marked with birds singing and foliage kissed by dew drops and sunlight. Wide smiles appeared on Julieto and Elena's faces as the sights and sounds of the festivities in the barangay proper filled their senses: bamboo arcs and banderitas (bunting) served as decorations, beats of agongs echoed from a distance, and different kinds of native food were laid out for guests.
It was the 52nd anniversary of Maligaya, after all. For many, it was just their typical annual celebration. However, for Julieto, Elena and the rest of B'laan community, which comprise 35 percent of the total village population, it was even more special because for the first time, they will be the ones taking the center stage. Capping the village celebration was a milestone in the history of Sultan Kudarat- a mass wedding of 38 B'laan couples, including Julieto and Elena, who are all volunteers and beneficiaries of the Department of Social Welfare and Development (DSWD) programs.
Unheard voices
B'laan communities are usually in the farthest and most remote villages of Southern Mindanao. They are most known for their well-preserved rich and colorful cultural heritage, arts, and handcrafts, including brass ornaments and distinctive beadwork.
Despite the richness of their culture and traditions, B'laans, like many Indigenous Peoples (IPs), are steeped in poverty and suffer from continuous deplacement from their lands.
Julieto's family settled in a mountainous remote sitio of Mauno, a five-kilometer journey from the Barangay Maligaya proper, traversing a near-impassable path. With fellow B'laan farmers, Julieto relied on the abundance of nature, planting corn, bananas, and root crops for sustenance and income. Trapped in a cycle of grinding poverty, for a long time, they were almost isolated from government programs and from the rest of the world.
As he waited for the Fulong to officiate the mass wedding, Julieto, wearing his "saul laki", a B'laan traditional men shirt made of abaca fibre, he recounted, "Murag me gipabay-an kaniadto, tungod nga naa kami sa mga bukid nagpuyo, tungod sa kalayo, halos dili me maabot ug makakita sa mga serbisyo sa gobyerno, kung naa man, halos pipila lang," (Before, we felt we were left in the middle of nowhere because of the distance. We have limited access to government services).
To make matters worse, Julieto and the rest of B'laans had to face discrimination and deception.
"Kung manaug me gikan sa bukid arun magbaligya sa amoang mga produkto, ang uban sa amo kay dili gani kabalu mu-ihap, tungod kay nubo among tinun-an, sugot na lang kung pila ihatag sa manugpalit ug sila pud nagapresyo," (Because some of us are illiterate, and don't even know basic numeracy, if we had to go down from the mountain to sell our agricultural products, the one buying the product had control over the price, and we do not know that if the amount given was right]," Julieto sadly said as he fixed his salwal (trouser). Julieto was a Grade III dropout.
For Julieto, their voices crying out about their problems and struggles just kept echoing in their mountain, never getting out, giving them no chance of getting heard by those not from their community, and they felt that the small number of those who heard their plight chose not to listen to them.
Falling in Love with the DSWD Programs
Though there were several interventions given to them before, it was when the DSWD entered Columbio that the B'laans felt that they were finally heard, and they enthusiastically jumped in to participate in these initiatives.
DSWD worked hand in hand with the local government of Columbio and the community to implement the Kapit-Bisig Laban sa Kahirapan-Comprehensive and Integrated Delivery of Social Services (Kalahi-CIDSS), a community driven-development strategy in reducing poverty, improving local governance and empowering community by way of getting the citizenry to become involved throughout the process.
Inspired by the staffs who endured trekking mountains to reach their community, trying their best to involve them in village assemblies and planning, without undermining their capacities, Julieto was one among those who first showed support to the program.
Despite being the tribal chieftain, Julieto was hard-pressed to convince the B'laans to become involved in Kalahi-CIDSS. "Sa una, lisud kaayo dalhon ako ang mga katribu kay ilahang priyoridad mao ang makakaon kaysa sa mag adto sa mga assemblies," (First, it was difficult to convince my tribe to support the program because their main priority is livelihood and not attending assemblies), Julieto said.
However, Julieto remembered happily how he convinced his tribe to forego a portion of their times usually used for livelihood for the Project, even if it sometimes meant walking a long distance to attend activities. He used the "sense of ownership" value as driving force to maximize support Kalahi-CIDSS. Little by little, they learned to love it, prioritizing it in their list of activities.
Indeed, their efforts had been paid off. Maligaya, with the collaborative efforts of all villagers, was able to construct a day care center, their chosen community project. The B'laans fully supported the Project for they believed that education is the best way to break the cycle of poverty, given their experiences.
The following year, B'laans were able to achieve yet another dream through Kalahi-CIDSS, a post-harvest facility. The community united in assemblies to plan for their solar dryer community project, which they constructed right in the middle of the village, chosen so they can increase the quality of their agricultural products and their income.
The increase in income allowed Elena to put food on their table for their family. However, this left them with almost nothing for the health and education needs for their three children.
Luckily, their family was included as one of the partner beneficiaries of Pantawid Pamilyang Pilipino Program (Pantawid), a conditional cash transfer program of the Philippine government also implemented by the DSWD. Through Pantawid, Elena was able to send her three children to school, all of whom are covered by the program.
The P1, 400.00 Elena receives each month has been a big help for Elena to sustain education and health needs of their children. The money they usually tried to set aside for education is now used by Julieto and Elena in their other livelihood activities. They were able to raise more domestic animals such as chickens, ducks, and pigs. They have also increased their agricultural inputs, thereby increasing also their income.
While the financial aid has greatly helped their family, what's more important to Elena are the valuable lessons she learned by attending Pantawid's Family Development Sessions such as enhancing family relationships, responsible parenthood, community participation, and leadership.
While Julieto keeps himself busy in Kalahi-CIDSS, Elena, as Parent Leader, helps in improving the implementation of Pantawid Pamilya by ensuring that B'laans in their community are complying the conditions of the program.
"Ang programa sa DSWD amo gyud gimahal ug parti na sa among kabuhi, kami ang naningkamot ini busa amoa kini kay mao ni ang among gipaabot sa kadugay na nga panahon," (We have embedded in our lives and love the DSWD programs. We regard these as our own that is why we want these to become successful, because these are what we are waiting for a long time)", Elena said, who wore a colorful an elegant embroidered B'laan wedding dress.
The Wedding, Gifts
The agong beats reverberated in the ears of everyone, signaling the start of the community wedding. The bright shimmering sun complemented the smiles and emotions of the soon to be husbands and wives. All of them are beneficiaries of Pantawid Pamilya Program who were collaboratively convinced by Julieto, barangay officials lead by Barangay Captain , DSWD staffs and local government officials to take the marriage vow.
The first in line were Julieto and Elena. While sitting on a mat, they fed each other rice and a boiled egg from a single plate, which symbolized oneness. A strand of hair on the head of Elena was then knotted together with a strand of hair from Juieto, symbolizing fidelity and faithfulness. While Elena knelt on a pillow, Julieto stood up and applied pressure to Elena's shoulder with his knee, symbolizing her submission to him. Elena then performed the same task on Julieto's shoulder.
It took two hours to perform traditional wedding rites, allowing non-B'laans to witness the tribe's ceremonial activities. At the end, all the 38 newly wed couples granted the request of the giggling audience, who repeatedly shouted "Kiss!"
After the wedding ceremony, the largest wedding gift the B'laans received was finally unveiled. They were ushered to nearby building to witness the turnover of another Kalahi-CIDSS Project, a one unit 7m x 10.5m warehouse facility that the DSWD, LGU, local officials, B'laans and the rest of the community had collaboratively worked together.
For newly wed Julieto and Elena, however, the true gift that has given to them is the recognition of their contributions to the development efforts of the community. The perception that they are like idle people in the mountains; without use, without skills, without ideas, now slowly vanishing. Now, Blaans prove that they can drive their own development; they are not just an audience but rather actors of development. They were given the access to and control of key development decisions and resources. Through these, their village was significantly united and empowered without compromising their cultures and traditions, allowing them to retain their existence and identity as B'laans.
"Nakabalo ug nabatyagan namu nga kami ginarespeto ug ginakilala na kami bilang tao," (In our hearts, we know and we feel that we are recognized and accepted as persons)," Julieto said, while holding the hands of his now officially called wife. While having lived together for more than 12 years already, this was the first time they were officially married.
It was indeed a beautiful day. By the time the sun was setting, the newlyweds still wearing their traditional wedding garb , stood together looking into the sky, holding on to the promise of a calm, peaceful night, and for a brighter tomorrow for their family and the rest of B'laan community. ### (Hilbert T. Estacion, Regional Social Marketing Officer, DSWD-12)