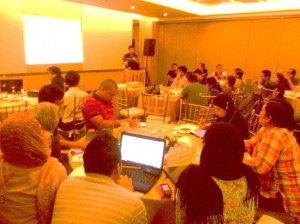 The Department of Social Welfare and Development (DSWD) XII now finalizes the list of applicants for the second round assessment of the National Household Targeting System for Poverty Reduction or NHTS-PR.
For pooling of field workers, National Household Targeting Unit (NHTU) closely coordinates with National Statistics Office (NSO) XII, National Commission on Indigenous People (NCIP) XII and the academe in Region XII.
Jackiya A. Lao, NHTU head, emphasizes that while DSWD XII does the final assessment for each applicant, the short lists are still recommended by the NSO, NCIP and the academe.
She further noted that the completeness and accuracy of the NHTO database of poor households rest mainly on how well the field personnel perform their roles and functions.
"Choosing the right field workers is just as important as training them as it will ensure they work on completeness, accuracy and reliability of the NHTS-PR Database", Lao explained.
DSWD XII targets to hire a total of 2,649 field workers who are expected to complete the second cycle with 1,615 Enumerators (Ens), 323 Area Supervisors (AS), 65 Area Coordinators (AC), 323 Encoders and 323 Verifiers.
According to Lao, these hired field staffs will undergo a week-long intensive training.
In line with this, NHTU staffs were recently sent to Manila for a Training-Orientation for Trainers (TOT). The five-day exercise conducted by the National Household Targeting Office (NHTO) aimed to capacitate the NHTU staffs in facilitating the training of hired field staff soon.
"We cannot just deploy these people who will have significant roles in developing the second cycle of NHTS-PR without equipping them with everything they have to know about the project", Lao explains.
Accordingly, the training will be a combination of lectures, written exercise, demonstration interview, mock interview and field practices.
As mandated in Executive order 867, the NHTS-PR database will be updated every four years. As such, the second nationwide household assessment will be done this year.