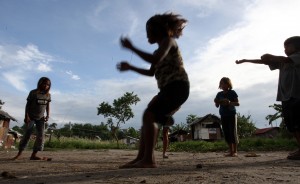 KORONADAL, South Cotabato — The government's conditional cash transfer program in the southern Philippines is working well in terms of improving lives of people in the region, government officials said.
Zorahayda T. Taha, regional director for Department of Social Welfare and Development, said more than 213,000 households are currently covered by the program in Central Mindanao region since last month.
"We are only covering children under 14 years old below but the government is planning to expand up to 18 years old," Taha said.
The Conditional Cash Transfer program provides direct education and health subsidies for families who comply with certain conditions, including regular school attendance for children and regular health center visits for mothers.
Three children aged 14 and below are given 6.9 USD a month each while the mother receives 11.6 USD monthly for every family chosen to benefit under the CCT.
"The Australian government review the program and it turn out working and helpful to the people," she said.
Taha was referring to Dr Tarcisio Castañeda, a consultant for Australian Aid who described the program "remarkable," given that it is a young program that has already seen an increase in its budget and in the number of beneficiaries.
Juliet Clavel, CCT program coordinator, said United Nations (UN) Undersecretary and General and Associate Administrator of the United Nations Development Programme (UNDP) Rebeca Grynspan cited earlier the program should "not be judged in the short term but after ten years when it can demonstrate success in breaking the intergenerational cycle of poverty."
The UN official, according to her, stressed that the program must be supported as it gives children of poor households a chance to finish school through incentives.
These comments have given DSWD some encouragement, considering that the CCT has been criticized as a dole-out strategy that has failed to pull Filipinos out of poverty. (End)