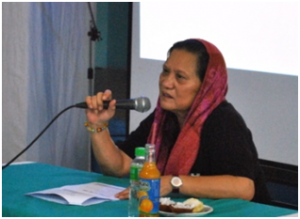 City of Koronadal – The Department of Social Welfare and Development Field Office 12 recently reviewed its programs and implementation activities for 2014 providing emphasis in aligning its programs, individual responsibilities and targets to its three strategic goals.
In a recent Regional Management Development Conference (RMDC) held here, DSWD 12 regional director Bai Zorahayda Taha stressed that every employee and more particularly officials and those holding key position in the office must familizarize the strategic goals of the department while also putting in mind the DSWD Vision 2030.
"I urge all of my staff to be aware of our direction and not just accomplishing daily "things to do" but also knowing where the daily targets are leading to," Taha said.
Director Taha pointed out that all employees, those holding management positions and even rank and file employees and field workers must understand their contribution to the achievement of the strategic goals.
From previous year, DSWD aims to achieve its three strategic goals namely: raise the number of self-sufficient Pantawid Pamilya families, raise the number of NHTS-PR identified poor household given with at least two social welfare and development programs, and ensured functionality of local social welfare and development offices which intends to implement devolved functions.
Gemma Rivera, assistant regional director for operations and concurrent Deputy Program Manager of DSWD 12's three core poverty reduction programs said that there is a need to converge our efforts as well as our human resources in implementing our poverty reduction programs.
Rivera said, "we need to organize our Provincial Social Welfare and Development Team (PSWDT). This group will ensure effective and efficient implementation of the conditional cash transfer Pantawid Pamilya, community-driven program KALAHI – CIDSS and the Sustainable Livelihood Program."
She added, "these programs are no longer separate but complements each others as these are all geared towards alleviating poverty of Filipino families and communities."
"While we are concerned with improving the well-being of our poor Filipino families, we must also inject programs and plans that help improve the resiliency of families in disasters and calamities," Rivera said.
Rivera noted that programs must respond to the "new normal" (referring to the current events i.e bigger and stronger calamities and disaster), and that DSWD must have faster, better and bolder strategies and approaches to respond to bigger challenges.
DSWD envisions to become the world's standard in 2030 in the delivery of social services for poverty reduction.