Koronadal City—The Department of Social Welfare and Development underscored the importance of support of the local government officials, especially chief executives for the scaling-up of the community-driven development (CDD) as a national strategy for poverty-reduction, which sets to benefit 17 towns in Region-12.
DSWD-12 regional director Bai Zorahayda T. Taha, said in a recent LGU Forum on KALAHI CIDSS-National Community-Driven Development Program (NCDDP), attended by some 70 local government officials, that the amount of chief executives' support for the Program is of vital help in the success of its implementation.
"We always emphasize the important roles of our local government officials, with the leadership of its respective mayors, as we continue to synergize our efforts, resources and initiatives through our various initiatives to uplift the quality of lives of our people here in Region-12," Taha.
Taha, in a statement, also expressed gratitude to the local government officials for the strong support and partnership shown in the all of the agency's programs, projects and activities, hoping to carry it out and strengthen it for the implementation of various multi-million projects in 17 towns.
"The agency pins its hope for the achievement of the Program's goal, with the support of our partners, as we continue to collaborate, communicate and coordinate as one, while providing faster, better and smarter programs and projects," Taha added.
Meanwhile, DSWD-12 assistant regional director, Gemma N. Rivera, said that the gathering of local government officials for a forum was to orient and discuss the conditions and requirements for the municipalities to join the Program.
"This is a venue where we engage the 17 LGUs that will be covered by the Program in a dialogue though the presentation of program rationale, program design and objectives and expected outcomes and basic requirements for enrolment and providing them with opportunities to engage the LGUs," Rivera said.
Rivera added that, the forum also aimed to look for possible provision of technical assistance and other forms of support for the Program.
NCDDP, is national expansion of the community-driven development (CDD) strategy of Kalahi-CIDSS, serving as support to post-disaster response and development to typhoon Yolanda-affected areas and, a P43.9 billion Program funded through the Asian Development Bank (ADB) Emergency Assistance Loan, World Bank (WB) Loan and Government of the Philippines (GOP).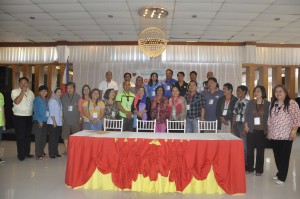 Among the identified towns to benefit in Region-12 are Glan, Kiamba, Maasim, and Maitum, Sarangani province; Alamada, Aleosan, Banisilan, Carmen, and Pikit in North Cotabato; and Bagumbayan, Isulan, Kalamansig, Lambayong, Lebak, Lutayan, Palimbang, and Senator Ninoy Aquino in Sultan Kudarat.# (Hilbert T. Estacion DSWD-12)