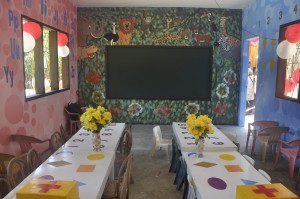 Koronadal City—The Department of Social Welfare and Development in Region-12 has turned over recently four community projects in towns of North Cotabato amounting to P1.37 million, an agency official said Monday.
DSWD-12 regional director, Bai Zorahayda T. Taha said that the projects, which include three day care centers and a drop-in center, are part of the government's Grassroots Participatory Budgeting Process initiative.
"These projects are part of the government's effort to answer the needs of less privileged and vulnerable sectors in which they themselves identified and implemented that are responsive in their pressing needs," Taha said.
According to Taha, a new drop-in center dubbed as "Bahay Pasilungan" was turned over in Poblacion, Midsayap, now serving abused women, children and other individuals in crisis situation.
Taha added that at least a hundred of day care pupils in village of Sadaan and Kimagango in Midasayap and Langayen in Pikit town are now benefiting the new day care centers.
Alma Villan, 53, a day care teacher of Barangay Sadaan said that the project realized her longing of having conducive classroom to improve learning experience and condition.
"People used to call our classroom as dirty kitchen because it was old and dilapidated," Villan said, who is now 11 years as teacher. " But now, it looks like a beautiful home," Villan added.
Villan enrolees boasted from 10 last year to 40, attributing the increase to her new classroom.
Meanwhile, DSWD assistant regional director, Gemma N. Rivera said that the recently turned over projects are just the first batch of GPBP projects in North Cotabato implemented through the agency.
"There are ten more projects, amounting to P9 million that are now mostly in the completion stage and expected to be turned-over in the communities in the coming months," Rivera said.
These projects include, according to Rivera, the first center for children in conflict with the law (CICL) in the province, day care centers, livelihood centers and many others.
GPBP, formerly known as Bottom-Up Planning and Budgeting or BUB, is a planning and budgeting approach in the formulation of the budget proposals of government agencies, taking into consideration the development of poor cities and municipalities as identified in their respective local poverty reduction action plans as endorsed by the basic sectors and civil society organizations. ### (Hilbert T. Estacion, Regional Social Marketing Officer, DSWD-12)