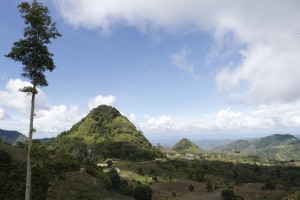 MALUNGON, Sarangani — Meriam Pulvera claimed she will be thankful forever.
The 29-year old mother from the village of Malungon Gamay, a Bla'an native, confessed her decision to attend community and family development sessions have opened her, learning of their full rights on issues concerning ancestral domain.
"I am thankful because my family was included in the government's program. It's helps meet our needs," Pulvera says during an interview inside their wooden-made house.
Pulvera's family is covered by the agency's Modified Conditional Cash Transfer designed to help families and children that are in difficult situations and overcome such situations and be able to mainstream them into the regular CCT program or popularly known as Pantawid Pamilyang Pilipino Program.
It is a modified approach meant to maximize the reach of the Conditional Cash Transfer Program for the purpose of helping the streetchildren reunited with their families and bring them back to school.
Pulvera recalled since her family was included in the list of MCCT beneficiaries she learned their ancestral domains rights.
"We learn about our land rights, power and self governance. We don't know much of these until it was explained to us in our family development sessions," she says.
According to her, herself and the rest of her neighbors in their small community were strengthened upon discovering their rights.
"It boosts our morale. From time to time in our village we are reminiscing our cultures and tradition," she explains.
Juliet Clavel, regional project coordinator, says residents in the village are looking forward the program will continue even in the next administration. (Jay-R Cael)