PIKIT, North Cotabato, March 31 – The Department of Social Welfare and Development (DSWD) conducted Thursday a simultaneous forum about Conditional Cash Transfer Bill here and in General Santos City.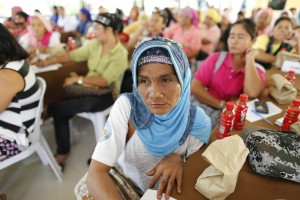 Juliet Clavel, regional program coordinator, said the forum, participated by parent leaders, aimed to provide updates to people covered in the program regarding the proposed law for CCT.
Clavel also noted her office is working along with partners from the Civil Society Organization for the daylong activity.
"We wanted the people know where are we now in terms of our efforts to make our program permanent," Clavel said.
"The same event is also being conducted right now in General Santos City," she added.
Baidido Alam, a parent leader in the village of Paidu Pulangi, said she is optimistic the administration of President Benigno Aquino III will pass the bill before his term ends.
"It is in right time now to pass the CCT law. It will be favorable to us," Alam said.
Atty. Macario De Villa, chief of DSWD Central office's Risk Management and Quality Assurance Division, stressed the importance of passing the CCT Bill.
"Why we need the program to make it permanent? So that we have assurance that who ever is the next President, the program
will remain," he said.
Last month, the House of Representatives has approved on third and final reading a bill that would make the CCT program a permanent government anti-poverty program.
Under its conditions, the CCT allocates grants P500 to P1, 400 for each beneficiary household, depending on the number of eligible children. Each family is allowed a maximum of three children to receive the monthly benefits.
It calls children aged 3 to 18 to stay in school and maintain class attendance of at least 85 percent each month. Pregnant women are also required to avail pre- and post-natal care, and delivery must be assisted by skilled health personnel, while parents are mandatory to take "family development sessions" to enable them to become better parents. (End)