T'BOLI, South Cotabato — Forty three year old Loli Denyan wanted that she could send to school all her 13 children but life for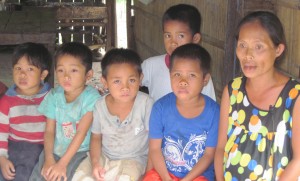 them is not easy.
She, along with native locals living in the village of Sinolon, even lacks the basic needs in life. They had never enough to eat and clothing was scars. Her family didn't own any land.
Their house, made up of wooden materials, has no electricity. At the same time, no safe source of running water, with only a few possessions other than their clothes.
Barefooted children are playing around huts and small wooden-made homes, chickens are running about—this is their neighborhood.
Speaking in Filipino, Mrs. Denyan says that daily they struggle to buy a single kilo of rice.
"Most of the time my kids go to school without having breakfast and lunch," Denyan, pregnant for her 14th child, says in an interview.
Like most of the parents in this extremely poor community, Mrs. Denyan was hoping a change in their life.
She was in the point of losing hope she heard about the Pantawid Pamilyang Pilipino Program, a government poverty reduction and social development strategy.
But that was three years ago.
All the experiences she revealed could now be considered the dark side of their life.
"We were included in the conditional cash transfer program. It's a big help to us and we were thankful," she says.
She explains that only education of her children could change their present situation.
The inclusion of her three of 13 kids in the program, covering their education and health benefits, was a big help.
"Now my kids are in school. We feel there is government. I am happy we can pay their fees. The last time we received the money, I bought them sleepers," she adds.
Mrs. Denyan was also happy after learning the Asian Development Bank will lend the government this year $400 million or more than P19 billion to sustain the CCT program.
"It will be favorable to us since it only means there will be enough funding to support the program operation," she said.
The CCT hands over a monthly stipend of P1, 400 to poor families. Regular receipt of the allowance depends on compliance with the conditions of the grant: That the money would be used for the children's basic needs such as food, education and health and those parents would attend family-development sessions.
The Department of Social Welfare and Development, which implements the program with the health and education departments, said the CCT was ongoing in 28 provinces, covering 168 barangays in 58 towns.
The CCT is the DSWD's largest nationwide program and the first to directly hand over cash to poor Filipinos. The government seeks to extend the program to some 4.6 million Filipinos by the end of President Aquino's term.
With one dream realized, Denyan has another. In addition to the school, she hopes her village will soon have a hospital. One of her kids wants to be a nurse. She knows that dreams do come true. (End)