TANTANGAN, South Cotabato – A grade 8 honor student from this town has one request for President Benigno Aquino – to institutionalize the conditional cash transfer program before the end his term.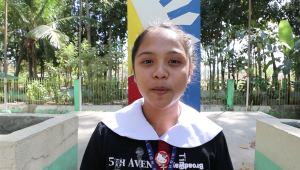 Armelyn Lozada of Tantangan National High School, said that passing a law for CCT will help students like her to push their dreams to get a degree in college.
"The grants my parents get from the program were used for my education and some goes to our small store as part of capital," said Lozada, an honor student since elementary.
"I wanted to become a teacher someday and I hope our President will pass the bill for CCT. It would be a big help to us," Lazada added.
Bai Zorahayda Taha, DSWD regional director, said the student's pronouncement only shows the program is not a dole out.
Regional program coordinator Juliet Clavel revealed several students covered by the program have ended their schooling with honors.
"Our partners from the civil society organizations are also hoping the administration will pass the CCT bill," Clavel said.
The CCT aims to provide social assistance and development through monetary support to extremely poor families by investing in their health, nutrition and education.
Nationwide, CCT beneficiaries totaled 4.4 million families and had covered 10.2 million schoolchildren aged zero to 18 in 79 provinces. (End)