Koronadal City—Some P19.6 million worth of community projects are now up for implementation in Kiamba, a coastal town of Sarangani province under the government's poverty-reduction program, Kalahi-CIDSS.
Bai Zorahayda T. Taha, DSWD 12 regional director said that another 13 various community projects will be benefited soon by Kiamba town villagers, especially those in the hard-to-reach communities.
"The identification of these community projects was given to the volunteers after they have given the opportunity to choose which of the proposed projects will be funded by the Program through an inter-barangay forum," Taha said.
Among those projects include double barrel concrete box culvert in Lomuyon, Tablao, Lebe, and Salakit while a rescue vehicle will be given to Gasi, Kling, Maligang, and Katubao villages and a 1000 linear meter drainage canal will be constructed in Lagundi.
Tambilil residents will have new health station and a potable water system for Luma. Kapate and Datu Dani residents are soon to benefit with their new school building and day care center, respectively.
Meanwhile, Daryl Doctolero, the town's area coordinator said that Kiamba is in the final phase of the program, known as makamasang tugon (MT), after it has implemented three cycles.
Recently, Kiamba has implemented projects including footbridges, school building, flood control and a school building amounting to P20.4 million, Doctolero said.
Kalahi-CIDSS, which stands for Kapit-Bisig Laban sa Kahirapan- A Comprehensive and Integrated Delivery of Social Services is now being implemented in the 16 towns in Region 12.
Funded by World Bank through DSWD, with the cash and in-kind counterpart from local government units and communities, it gives opportunity to the villagers to take active role in local governance. (Hilbert T. Estacion, regional social marketing officer, DWSD 12)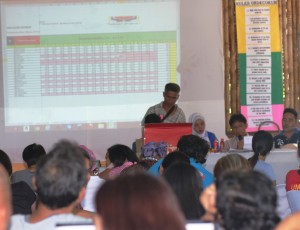 LIVE CANVASSING Volunteers from 19 barangays of Kiamba town witness the tallying of scores which they casted on the proposed community projects during the municipal inter-barangay forum last July 20. One of the unique features of Kalahi-CIDSS is the program's prioritization process in which instead of local officials that determine which villages will avail the funds and projects; it is now given in the hands of ordinary people of barangays.