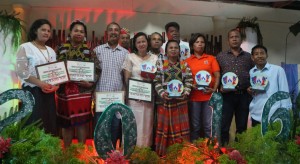 Koronadal City—The Department of Social Welfare and Development in Region 12 has recognized outstanding individuals recently for their exemplary contributions in the development of their respective communities in Maitum town, Sarangani Province.
Bai Zorahayda T. Taha, DSWD 12 regional director said that the awardees are those of ordinary citizens with extraordinary achievements in making community-driven development a reality.
The recognition is dubbed as BayanI Ka! Awards, an initiative of Kalahi-CIDSS Program of the agency, given to its partners in its quest to reduce poverty, improve governance and empower local communities, Taha explained.
"These are our unsung heroes who continue to build hope and change the lives of many people through volunteerism with their respective advocacies," Taha said.
Among the awardees include Liza D. Rusiana for Gender Category, Bautista C. Agbay for Environment Protection Category, Kubli M. Kusin for Indigenous Peoples Category and Merlie M. Sornito for Improved Local Governance Category.
The criteria for selection and judging the recipients are based on their Bisyon, Aksyon, Yakag, Abilidad, Ningas, Inspirasyon or BAYANI.
Menawhile, Barangay New La Union was hailed as Best Bunicipal Local Government Unit while Kabalikat Civicom 499 Chapter bagged the Best Organization for Bayanihan Category.
The agency also recognized the outstanding individuals in the implementation of other programs including Pantawid Pamilyang Pilipino Program and Sustainable Livelihood Program.
The awarding activity was organized by municipal action team of Maitum, a group of DSWD's staff from the three-core programs of the agency.
As a CDD program, Kalahi-CIDSS build up on empowering the citizens and tightening their links with their LGUs so that they can work together to ensure their villages' progress.
Through this strategy, people are given the power and the resources so they can address their issues that affect or worsen their poverty situation. (Hilbert T. Estacion, regional social marketing officer)