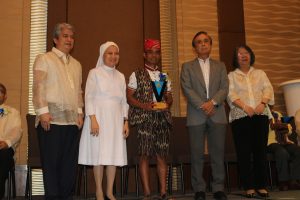 COLUMBIO, Sutan Kudarat—In the shadows of the verdant richness of the hills and picturesque trails of the remote mountainous village of Eday, life of poor Blaan's was a far cry from the development in lowland communities.
Plagued with famine, unstable peace condition, absence of livelihood means, illiteracy and inaccessible roads, everyday, villagers struggled to meet both ends and other life's essentials.
For many times, residents ended up fleeing their homes because when government troops and rebel group had encounters. This lent Eday, a 100% Indigenous Peoples community of Columbio town, Sultan Kudarat, the dubious reputation of being a "no man's place" during times like these.
Some, homes were partially or totally destroyed while others were burned down. Their domestic animals like carabaos, cows, chickens were stolen as wells as their crops.
Tired of picking up their lives all over again, many B'laans decided to settle to other villages and left Eday permanently.
Despite the situation, Marcelo Gusanan, 42, was upbeat that that someday, his village will be a better place for native people like him.
Marcelo led B'laans and knocked the doors of different organizations begging for help to intervene their situation. Many responded.
Unfortunately, there were others who took advantage the situation.
There were organizations who promised assistance and services like housing, jobs, livelihood, even collected some amount to B'laans to facilitate the aids but later it turned out to be fraud and were only used for funds generation.
"Siguro, naisip nila na mga illitirate kami, mas madali kami matuntuhan,"(They thought that were were illiterate and we were gullible) Marcelo said, which also for him, the most painful part of being an IP.
Their experiences hurt them so much, that it instilled them not to trust to anybody coming to the place.
When DSWD introduced to the community the Kalahi-CIDSS, a community-driven development project of the agency that aims to bring together villagers so they can work cohesively and transparently to move toward progress, it was first greeted with suspicion and doubts.
"Sa isip namon, isa na naman ka modus," (In our mind, it was another type of modus) Marcelo recalled. Later, after series of meetings and orientations, as village leader, he was the one who convinced the B'laans to participate the activities.
Marcelo served as a volunteer, took some initiative to have house-to-house information drive to the community.
As a volunteer, together with other B'laans, he underwent various trainings in preparation for their eventual implementation of their chosen project-a school building.
As one of the only three high school graduate in the place, Marcelo pinned his hope on education as one way to improve the living condition in the community. Majority of the the older generation of B'laans in Eday are illiterate.
"Nakita namon nga ini isa ka opotunidad para ipakita sa iban kung ano ang kaya namon," (We saw this as an opportunity to show to other people of what we are capable of doing) Marcelo said. "Gusto namon ipakita nga kaya man namon magtindog sa kaugalingon namon," (We wanted to show that we can stand in our own as an IP community) he added.
For many B'laans in Eday, the simple act of giving them opportunity to speak in front of other people to share their ideas can be life-changing experience.
Trust, according Marcelo, means everything for B'laans in Eday. It is the foundation of development and initiative for IP community. He used this trust to drive their own development.
Marcelo developed his leadership skills through various community capacitating activities and led in harnessing "people's power" through volunteerism among B'laans.
As an advocate of community-driven development (CDD), Marcelo make villagers understood that leaders have obligation to consult, report, explain, that all groups, particularly the most vulnerable, should have opportunities to participate in the process, who are answerable/accountable for the consequences of decisions and projects it has made for the community.
He encouraged the community, by his example, to work together to reach a common goal, working beyond what was expected to them, inspired to complete the tasks ahead of schedule, and rekindled the bayanihan spirit that was worth emulating.
As an IP leader, he let the community decide, ensured in providing the villagers the opportunity to directly take part in the project implementation process, and this included having control over community finances.
In fact, in their first subproject, because of their strong sense of participation, they were surprised that they had almost Php100, 000.00 savings after the project completion of the classroom building.
The excess money and materials were enough to construct the school's stage and water reservoir, benefiting hundreds of pupils.
Because of the success of their first project, they were given opportunity to implement other projects like water system, solar drier with warehouse under Kalahi-CIDSS and become a model of some other barangays.
Different national and local agencies also brought their projects resulting to a rapid development in the place.
Seeing the new Eday, Marcelo recalled that moment when he was told to leave Eday. His decision to stay in the place was inspired by the idea that development is innate in the communities. What was only needed, according to him, to kick-start the process of active participation and engagement of the people. He never imagined that it would change the lives of B'laans of Eday.
Marcelo, for fighting for a cause for peace and development is now recognized as the new generation's "heroe of development."
He was recognized as 2016 Search for Outstanding Volunteers of the Philippines for Adult Category by the Philippine National Volunteer Service Coordinating Agency.
Gusanan was also recognized by DSWD as Best Community Volunteer during the 2nd BayanI Ka! Awards of Kalahi-CIDSS Program for 2016, taking the center stage to share the voices of B'laans that often neglected.
To date, from "no man's land", Eday is a home of some 1500 B'laans, out of the shadows of inferiority and poverty. (Hilbert T. Estacion, regional social marketing officer, DSWD Kalahi-CIDSS Program)