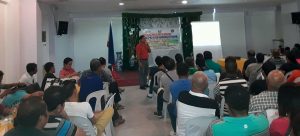 ISULAN, Sultan Kudarat—Seventeen villages here are set to benefit Kalahi-CIDSS projects collectively valued at P23.22 million after its approval through an inter-barangay forum, a DSWD senior official said Friday.
Gemma N. Rivera, DSWD-12 assistant regional director for operation said that at least 20, 210 households will benefit the projects that are part of the last implementation phase of the program in town.
"We are now fast tracking the release of funds to start the construction of these projects to ensure that target beneficiaries will utilize these government projects as intended." Rivera said.
Road problems in some areas of villages of Bambad, Kalawag I, Kalawag III, New Pangasinan, Tayugo, Laguilayan, Dansuli and D. Lotilla will soon be addressed with concreting and rehabilitation projects with combined value of P11.19 million.
Constructions of drainage line canal are also up in Kalawag II (P1.67 million) and Sampao (P1.5 million) aim to reduce flooding especially during onset of rainy season.
Access to health and other related services in the villages of Bual and Mapantig is expected to be improved with construction of health center with facilities amounting to P1.27 million each.
Furthermore, satellite market (P1.27 million) will be constructed in Kenram and Kudanding, while solar street lights (P1.28 million) in Kolambog and learning center in Impao and Lagandang amounting P1.22 million and P1.23 million, respectively.
Isulan town, after more than three years of implementation, has completed 64 community projects under the program, amounting to P86.17 million, in which P12.48 million comes from local counterpart contribution of local government unit.
Dr. Marites K. Pallasigue, the town mayor has expressed gratitude to the program for benefiting thousands of villagers in Isulan.
"More than the project amount, we value how the program enkindles the bayanihan in the communities, the value of transparency and accountability and sense of ownership that the Kalahi-CIDSS inculcate to the people," Pallasigue said.
Isulan town has been recognized by DSWD in 2016 as Best Municipal Local Government Unit in Region 12 for its exemplary performance in the implementation of Kalahi-CIDSS during the 3rd BayanI Ka! Awards of the agency.
The town, aside from championing community-driven development, has popularized the terms and tagline, "Mahusay na mga Proyekto" for Kalahi-CIDSS and other projects in town, as trademark of all subprojects, constructed under the Program. It also holds the record as the first municipality to construct a community -owned water purifying station project in the country under Kalahi-CIDSS.
Kalahi-CIDSS is one of the poverty-alleviation programs of the government that is being implemented by the DSWD. It uses the community-driven development (CDD) approach, which enables communities in targeted poor and disaster-affected municipalities to identify their own needs, and collectively implement and manage solutions to these needs. (HILBERT T. ESTACION, regional social marketing officer, DSWD-12)