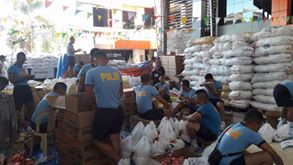 #MarawiClash – Many of families were affected in Marawi City siege which resulted to the mass number of internally displaced persons (IDPs). The Department of Social Welfare and Development prepared an augmentation plan to ease the plight of the affected families.
Bai Zorahayda T. Taha, DSWD FOXII Regional Director said "Field Office XII has a prepositioned stockpile of 30,000 family food packs at Php 410.00 per pack amounting to Php 12,300,000 and 3 million standby funds and is available at any given time".
"The region has augmented a total 20,388 family food packs at 360 per pack amounting to Php 7,339,680 to the affected families with 269 pieces of hygiene kits, 1,020 pieces of malong, 223 boxes of Mineral Water and 3,150 pieces of high energy biscuits" Taha explained.
"DSWD Central Office has released a total fund of Php 17,200,00 to Field Office XII for the affected families. Out of the fund, Php 7,200,000 for hygiene kits at 360 per piece and Php 10,000,000 for malong at Php 250 per piece" Sec. Judy M. Taguiwalo said.
"As of 3:00PM of June 4, 2017, a total of 29,999 families or 149,995 persons were reported affected of the siege. Of the reported figure, a total of 27,898 families or 139,490 persons were the Internally Displaced Persons (IDPs) outside evacuation center and 2,101 families or 10,505 persons were IDPs inside evacuation center" said by Norhata C. Benito, Head of Risk Reduction and Management Section.
Also, "there were other reported affected families in the municipality of Saguiaran, LDS with 801 affected families or 4,005 persons, and municipality of Kapai, LDS with 1,300 affected families or 6,500 persons" Benito added.
In addition, there were 15 Existing Evacuation Centers: 9 existing ECs for Saguiaran, LDS and 6 existing ECs for Kapai, LDS.
The 9 existing ECs of Saguiran were: People's Plaza, Old Madrasa, Old Masjid, DepEd Kinder Room, BFP Office, Covered Court, MSU-Saguiaran High School, Pindolonan Primary School, and Lumbakatoros Madrasa while the remaining 6 existing ECs of Kapai were: Parao Evacuation Center, Pendulunan Evacuation Center, Kining Evacuation Center, Durunan Evacuation Center, Malna Evacuation Center, and Poblacion Kapai Evacuation Center.
DSWD Central Office also released additional funds to FOXII for replenishment of stockpiles amounting to Php 8,200,000 to ensure that the region has sufficient funds for augmentation to LGUs in Region XII and ARMM areas affected by disaster both Natural and Man-made. ###