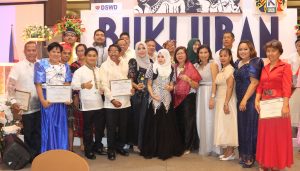 KORONADAL CITY—The Department of Social Welfare and Development in Region 12 was the big winner, bagging four out of nine categories of Kalahi-CIDSS 3rd National Bayani Ka! Awards recently held in Quezon City.
Bayani Ka! Awards is an annual search for the outstanding community volunteers who are considered as unsung heroes for their extraordinary contributions and dedication to the development of their communities through the country's community-driven development program, Kalahi-CIDSS.
Among this year's winners include Mr. Bautista Agbay, 64, a farmer from Barangay Mabay, Maitum, Sarangani Province who was hailed as Best Community Volunteer for Peace Promotion Award in recognition of his volunteerism works as chair of barangay subproject management committee, rekindled the "bayanihan system" in the implementation of 96 units of housing project in the village, benefiting poorest among the poor families living in a disaster-prone coastal areas like storm surge and flashfloods.
"Peace is not just about the absence of war. It's about sleeping inside your home with feeling safe and secure. It's about having good relation with your neighbor. It's about living with dignity." Agbay said.
The agency also won the Best Community Volunteer for Person With Disability Category through Mr. Rudy Mandiala, 44, a Manobo farmer from San Miguel, Arakan, North Cotabato.
Mr. Mandiala was hailed for being a role model, despite of those painful descrimination he experienced in life as PWD, channelling them into opportunity to prove his worth. He has inspired villagers to volunteer in various development initiatives in barangay, to be actors, rather than audience of development.
"Wala sa tribu, estadu ng buhay, antas ng pinag-aralan o kapansanan ang pagtulong. Lahat ay may kakayahan na tumulong maging sino ka man (Helping is not about tribe, status in life, educational attainment or disabilities. All of us have the capability to help)," Mandial said.
The efforts of Ma. Lolita Ruben, 56, of Barangay San, Miguel, Arakan, as volunteer in advocating the protection of environment was left unnoticed after she was hailed as Kalahi-CIDSS Best Community Volunteer for Environmental Protection Category.
Mrs. Ruben, as barangay kagawad, is a great instrument Barangay San Miguel for being one of the most prolific barangays in terms of number of resolutions and ordinances passed related to environment protection in the municipality of Arakan.
On the otherhand, the village of Tambilil in Kiamba, Sarangani Province was declared as this year's Best Barangay Local Government Unit for Tambilil for empowering ordinary citizens through direct participation in local governance by allowing them to identify their own community needs, as well as plan, develop, implement, manage, and sustain projects together to address local poverty issues in a transparent, participative manner while inculcating accountability.
Gemma N. Rivera, DSWD 12 said that Bayani Ka! Awards is an expression of gratitude of the agency to the community volunteers of the program for their contributions in addressing the local problems.
"Our volunteers are the lifelblood of the Program. They our local heroes that are offering their time, talent and treasure without expecting in return," Rivera said.
Each winner received a development incentive amounting to P30, 000.00 to fund their chosen project in their respective villages.
Some 300 community volunteers, DSWD and LGU officials attended this year's 3rd Bayani Ka! Awards and 1st National Community Volunteers Congress from 15 regions of the country with the theme, "Bukluran: Sama-samang lakas ng mamamayan". (Hilbert T. Estacion, regional social marketing officer, DSWD 12)