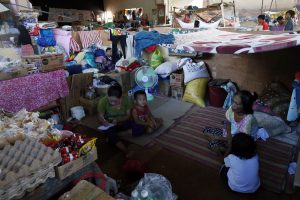 MARAWI CITY — The Department of Social Welfare and Development (DSWD) has assured Friday continues support to nearly half million people displaced by the ongoing fighting between soldiers and pro-Islamic State of Iraq and Syria in this only Islamic city in Mindanao.
Bai Zorahayda Taha, DSWD 12 regional director, said the administration of President Rodrigo Roa Duterte ensure that residents affected in more than  four months old crisis will be provided of their needs.
Dir. Taha said they have 74 active evacuation centers scattered all over Autonomous Region in Muslim Mindanao and Region 10.
"We are in the process of validation if IDP's claiming that are not included on the database are Bakwit from Marawi," Dir. Taha said.
Nurhanie Diangka, DSWD 12 regional executive assistant, said they met with their counterparts from Central office, Region 10 and ARMM in Iligan City on Thursday and discussed how to improve the delivery of services to affected civilians.
"We learned about the reports of deaths in the evacuation centers are we as a group working to contain it," she said.
Dr. Alinader Minalang, Lanao del Sur provincial health officer, said of the total 56 deaths they recorded from May to September 28, nine of them were new born babies while six were less than six months old.
Minalang cited based on the records 15 died of pneumonia; severe dehydration, 11; sepsis, 10; stroke, 6; heart disease, 6; and neonatal death 4.
The clashes here flared up on may 23 when soldiers and policemen moved to arrest Isnilon Hapilon, the acknowledged head of the Islamic State in Mindanao who is on the list of US most wanted terrorist. The Fighting displaced more than 400,000 people.
Military officials earlier claimed troops might be able to retake devastated Marawi City in the next ten days. (End)