MARAWI CTY, Oct. 26 — DSWD officer-in-charge Secretary Emmanuel Leyco announced the suspension of conditionality's of beneficiaries under Conditional Cash Transfer Program as the government commenced the full swing rehabilitation of this warn torn city.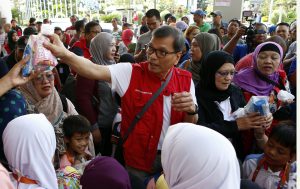 Speaking with reporters during a press briefing at the provincial capitol here on Wednesday, Leyco said conditions lifted under Pantawid Pamilyang Pilipino Program  include  class attendance of at least 85 percent each month of children and the mandatory to take "family development sessions".
"We allocated at least three billion to cover the relief assistance for the people displaced by the fighting until December this year," SEC. Leyco said, adding returning residents to cleared areas here will be provided with one sack of rice and assorted canned goods.
For next year, he said they will be needing additional three billion to continue the delivery of services to Marawi.
"We might have lapses in the delivery of services but I assure you we will attend to them in earnest," he said, citing the delay in some delivery of food aid to evacuees.
Leyco also announced the temporary appointment of DSWD 12 regional Director Bai Zorahayda T. Taha as their point persoN for Marawi crisis intervention. (End)