KORONADAL CITY — The Washington-based multilateral lender World Bank cited the government's conditional cash transfer program among the successful anti-poverty drive in the region that other countries in the Asia Pacific should emulate.
Bai Zorahayda T. Taha, Department of Social Welfare and Development 12, said Tuesday  World Bank vice president for East Asia and the Pacific Victoria Kwakwa made the statement in their recent report "Expanding Opportunities for the Urban Poor".
"We have more than 250,000 beneficiaries covered now in Region 12 since we started the program in early 2008. The World Bank report only shows that we are on the right track in the fight against poverty," Dir. Taha said.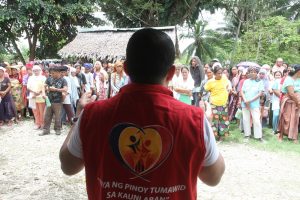 Dennis Domingo, DSWD 12 regional information officer, said CCT beneficiaries in Region 12 were also supported by the office in terms of livelihood.
The World Bank, in their report cited the CCT, also known Pantawid Pamilyang Pilipino Program,  has helped alleviate poverty for millions of households.
"Cities across East Asia have propelled the region's tremendous growth. Our collective challenge is to expand opportunities to all in the cities—from new migrants living in the peripheries to factory workers struggling to pay rent—so that they can benefit more from urbanization and help fuel even stronger growth," Kwakwa said.
Under its conditions, the program allocates grants P500 to P1, 400 for each beneficiary household, depending on the number of eligible children. Each family is allowed a maximum of three children to receive the monthly benefits.
It calls children aged 0 to 18 to stay in school and maintain class attendance of at least 85 percent each month. Pregnant women are also required to avail pre- and post-natal care, and delivery must be assisted by skilled health personnel, while parents are mandatory to take "family development sessions" to enable them to become better parents. (End)