KORONADAL CITY — For 11-year old Grade Six Maranao student, being poor should not be an excuse to achieve one's dreams in life.
Nor-Azisa Decampong, Supreme Pupil Government president of Marbel 1 Elementary School under Special Education Program, came from a poor family in Koronadal City in South Cotabato but she continue to excel tremendously since in her first grade.  Her parents were both sidewalk vendors.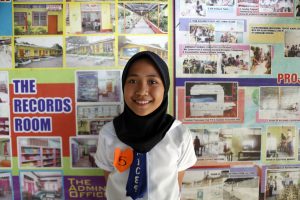 "I wanted to become a teacher someday so I can teach other children in our community.
My parents are my source of strength that's why I am giving my best in school," Decampong, their school's 2016 journalist of the year.
"With he help of Allah, I can finish get a college degree and when that happen, I can help take out our family to poverty," she added.
According to Decampong, who is active in their school by participating in Mindanao's school press conference, said they have not rich and the government's program, the Pantawid Pamilyang Pilipino Program, means a lot to them.
Decampong said since the program covered them she felt the government is real and sincere in helping poor people like them.
"Because of the Pantawid Pamilya, she learned that a lot of people are below poverty line and all their reasons they have not finish their education," she said.
"I learned to save money and it must be used to the needs that are very important like education. I learned to become clean in all aspect whatever you status in life now. And being poor is not the reason we cannot finish our education because there are several government programs that helps poor people like us," she added.
For Maranao children affected by the give-month conflict in Marawi, Decampong urged them to focus in their studies for it's the only key to their development.
Jovelyn Pedroso, Decampong's adviser in campus journalism, said apart from being president of their school, she is active in their organization.
"She's been with us in the group in the last two years. She is very dedicated and responsible leader in our school," she said.
Last year, Pedroso said Decampong was their representative in Regional School Press Conference in Sultan Kudarat copy and headline writing.
"We are so proud of her," he said.
Sajarata, 48, the mother, was thankful they were included in the program four years ago.
"Our income as sidewalk vendors not enough to support our five children. But the government program means a lot to us. It's a big help," she said.
What are the changes in your life since you became beneficiary of Pantawid Pamilyang Pilipino Program?
There are a lot of changes in my life. First, I became closer to Allah. I am always thanking him for the blessing I get. Second, I am studying hard to finish y studies and I can get a degree in college for my future.
 I learned how to save money and spend it properly. I learned the importance o cleanliness whatever my status in life. Being poor is not a hindrance to get education because there are government programs like the Pantawid Pamilyang Pilipino Program that helps the poor. 
In all you learned in school and community, what is more important to you?
Being good to others…that's important to me that I learned. And that's the most important trait of a person. I think no successful person in real world that got that kind of characteristic.
As student covered by the program, what can you do to become successful?
All I can do is to study hard so that I can get a good job in the future. That's the reason also why I am aiming to get high grades in school so that when I reach college I can get a scholarship. When I finish my studies and get a good job, I can help to other poor people in our community. I will be a good example to other children in my village. I will encourage them to study hard because education is the only key to a successful life. I will follow all the laws and encourage my friends to do the same because I all Filipino will follow the laws of the country we can cross the bridge to success.