The Department of Social Welfare and Development (DSWD) continues its operations to provide assistance to Filipinos affected by the war in Marawi as efforts for the early recovery phase have begun. For the last two to three weeks, residents forced to evacuate when the war erupted have been returning to their homes.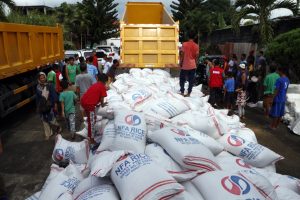 According to DSWD Region XII Director  Bai Zorahayda Taha, returning families are clustered and classified into barangays. Barangays found to be safe are already filling with returning residents.
"Mayroon tayong 9 barangays na bahagi ng 1st batch na natapos na nating naserve. May 5, 783 pamilya na ang kumpleto nang nabigyan ng tulong," she said.
These barangays are Basak Malutlut, Marawi Poblacion, East Basak, Luksa Datu, Tampilong, Matampay, Datu Saber, Bo. Green and Panggao Saduc.
Families have received the following relief aid from the DSWD:
Family Food Packs
Hygiene Kits
Kitchen Kits
Financial Assistance
The agency has so far spent a total of P59,245,862 for the in-kind goods received by the affected families.
According to Dir. Taha, more barangays are scheduled to receive help from the agency, namely Bacold Chico, Lumbac Toros, Tuca, Toros, Pindolonan, Dayawan, Amito Marantao, Poona Marantao, Fort, and Bangun.
Family food packs called, "Kambalingan Package",  which were distributed may last for up to two months. Even the first packages which were delivered can last for up to 17 days. Such packs contain a sack of rice, 24 canned goods, 40 sachets of 3-in-1 coffee, and two kilos of pancit bihon.
Meanwhile, the hygiene kits that were provided include the following:
Bucket/Pail – 1 piece
Toothbrush – 3 pcs for adults, 2 pcs for children
Toothpaste – 500 ml
Shampoo – 1, 250 ml – 1 bottle
Bath Soap – 1, 250 g
Laundry Soap – 1, 000 g
Sanitary Napkin – 8 pcs
Comb – 2 pcs
Shaving Razor – 1 pc
Nail Cutter – 1 pc.
Each hygiene kit costs P1,825, while the kitchen kits which contain five spoons, five forks, five water glasses, five plates, a frying pan, a cooking pan, and a laddle each cost P796.
Based on DSWD official data, a total of 77,170 families of 353,636 individuals evacuated from Marawi since the war erupted. They are referred to as "bakwit" or Internally Displaced Person/s (IDPs).
Most IDPs, according to the official data from DSWD, are in Region X including 38,949 families, ARMM with 33,221 evacuating families, Region XII with 2,386 evacuating families. Some families also evacuated to Region XI, CARAGA, and Region VII.
Based on DSWD data, as of November 16, a total of 4,668 families or 20,639 individuals are in evacuation centers. A total of 75,502 families meanwhile are said to be living with their relatives.
DSWD is currently conducting its Cash-for-Work program, and a total of P102 million have already been given.
Region VII – P244, 000
Region X – P53, 050, 000
CARAGA – P396, 000
ARMM – P48, 576, 000
The DSWD is instructed by the national government to conduct efficient relief distribution and give support for the families returning to their homes so they can begin their recovery and eventually resume their normal lives.#