GENERAL SANTOS CITY, Dec. 11 — Beneficiaries of the country's pro-poor program Conditional Cash Transfer welcomed Monday the government's plan to increase their monthly subsidy as the Senate recently approved the Tax Reform Acceleration and Inclusion bill.
Saina Kulan, a parent leader in Lake Sebu South Cotabato province, said the additional subsidy being push by the Department of Social Welfare and Development in Manila will be a big help in their daily expenses.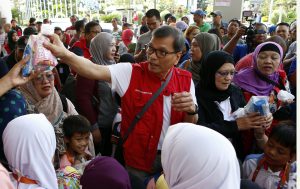 "We expect the prices of commodities will go up with the new tax reform bill and any increase in our monthly subsidy will help us," she said.
Emmanuel Leyco, DSWD officer-in-charge secretary,  they are proposing a permanent increase for the monthly or yearly subsidy of their beneficiaries.
Speaking before reporters in Manila, he said they estimate the proposed increased between Php 200.00 to Php 300.00.
DSWD 12 regional director Bai Zorahayda T. Taha said around 231,150 families are covered under CCT program in the region.
Dennis Domingo III, regional information officer, said at least 22,192 indigenous people in Region 12 will benefit from the new tax reform bill.
The tax bill is expected to generate P100 billion to P130 billion in revenue for the government.
It will would benefit 5 million people from the reduction in personal income tax, but "95 million will get hit with consumer taxes."
Reports cited most affected would be the poor, socioeconomic Classes D and E, because of the consumption taxes. (End)