GENERAL SANTOS CITY, Jan. 26 — The Department of Social Welfare and Development (DSWD) conducted a consultation Friday among key social worker officers as part of efforts to strengthen the agency's delivery of services in the region.
Jackiya Lao, DSWD assistant regional director for administration, said in her opening remarks at East Asia Royal Hotel here the delivery of services for the clients needs improvement.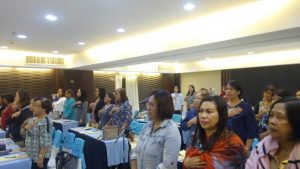 "We are serving one sector with different levels. Our current issue is still poverty. We need to be united and strengthen the partnership with our social workers in cities and municipalities we covered," Lao said.
"Based on our survey, we need to improve competencies in delivery of our social services. That's what we are working this year," she added.
Bonifacio Selma, DSWD division chief for operation, presented the agency's this year's Technical Assistance and Resource Augmentation Plan and accomplishment report last year.
The day-long activity was attended by municipal and city social worker officers in Region 12.
A latest survey of the Social Weather Stations cited  one in every three Filipino families has escaped poverty in recent years with 31 percent of respondents no longer identify themselves as poor. ( JBM/DSWD-SMS)