ILIGAN CITY, Jan. 15 — Ranking officials of Department of Social Welfare and Development accepted Monday the donations of Russian government for the people affected by last year's war and typhoons in Mindanao.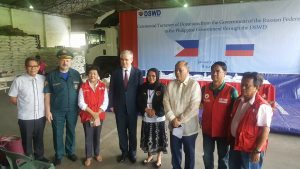 Bai Zorahayda T. Taha, DSWD 12 regional director, said the turn over ceremony for Moscow's relief assistance occurred at the office's warehouse in the village of Dalipuga  in this city.
The first batch of the donations arrived on January 3 includes one van containing 500 bags of rice; while the second batch, which arrived on January 9, consists of three vans (1,500 bags) of rice, five vans (2,460 bags) of sugar, four refrigerated vans (208,035 cans) of canned milk, and four refrigerated vans (130,815 cans of 338 grams and 103,968 cans of 325 grams) of canned meat or beef stew. The third batch of donations arrived on January 13 consisting of four vans containing 2,955 pieces of sawn softwood.
Taha said DSWD Undersecretary for Legislative Liaison Affairs and Special Presidential Directives in the Mindanao Region, Luzviminda Ilagan, formally accepted the humanitarian aid from Russian Ambassador to the Philippines Mr. Igor Anatolyevich Khovaev.
Taha said the donations will be distributed to people affected by last year's fighting between soldiers and armed militants in Marawi as well those who were displaced by typhoons.
"We appreciate the donations from Moscow. It will be a big help to our people," Taha said.
Nearly half million people were displaced and over 1,000 died in five month war in Marawi last year.
Nearly two hundred people were also reported killed and dozens more missing in landslides and floods unleashed by torrential rains from typhoons as it battered the southern Philippines last month.
Emmanuel A. Leyco, DSWD Officer-in-Charge, said the aid will further boost the ties between the Philippines and Russia.
"The aid is a proof that international solidarity continues to prosper between the Philippine government and the Russian Federation," OIC Leyco said.
"Rest assured that the donated goods, coursed through the DSWD, will reach the intended beneficiaries. We will do our best to facilitate the immediate allocation and distribution of the goods to the affected families," he added.
Dennis Domingo, DSWD regional information officer, said Mr. Igor Veselov, the Acting Director-General of the Department of International Activity of the Ministry of the Russian Federation for Civil Defense, Emergencies and Elimination of Consequences of Natural Disasters, also attended the event. (End)