KORONADAL CITY, Feb. 22 – Over a hundred jobless people covered by a government program in Central Mindanao were hired by local and international agencies last week in this city.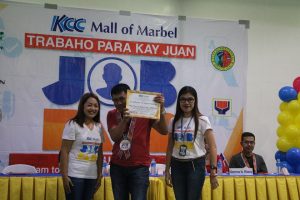 Bai Zorahayda T. Taha, regional director of Department of Social Welfare and Development, said Thursday one hundred applicants were hired during this year's "Trabaho para kay Juan" intervention along with the city government of Koronadal, partner agencies and KCC Mall.
Taha said the event, held on February 14 at KCC Mall, aimed to foster convergence amongst partner government agencies in addressing the prevailing issue of unemployment.
"The inclusion of our Pantawid Pamilya and Sustainable Livelihood Assistance beneficiaries only shows they are decisive to improve their life," Dir. Taha said.
Junalyn Hordista Gasque, Talent Recruitment Personnel of KCC Mall, said they will continue to open their doors with for future job fair with DSWD.
"We had a rapid employment of 4Ps and SLP program participants during local recruitment activities and job fairs," she said.
"Objectively, KCC and DSWD are partners in employment facilitation to further motivate them to create a pathway out of poverty," she added. (DSWD)