GENERAL SANTOS CITY, February 3 — The Department of Social Welfare and Development (DSWD) gave recognition Friday to its employees who have rendered long years of loyal public service to the agency.
Among those recognized by the department was Gemma Rivera, the current assistant regional director of DSWD 12 and regional project manager of KALAHI-CIDSS program.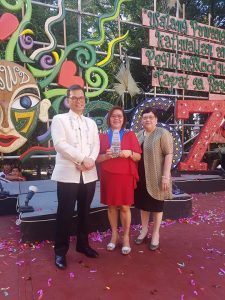 ARD Rivera has been working with the department for 40 years. She started as field social worker in 1976, the year when a tsunami, caused by a quake in Moro Gulf region in southern Philippines, killed between 5,000 and 8,000 people.
"I rose from the rank. In years of my career, i've been telling my co-workers the importance of patience and trust," ARD Rivera said.
"When I was deployed in Maguindanao for the aftermath of tsunami, I learned a lot, especially how to become a real social worker," she added.
ARD Rivera accepted Friday, February 2, the award during the 67th Anniversary Celebration of DSWD in Manila.
DSWD Officer-in-Charge Emmanuel A. Leyco lauded the efforts of each employee of the Department and encouraged them to continue to provide genuine public service to the Department's clientele.
"I have always been proud of the employees of the DSWD as I have seen their dedication and strong commitment to providing excellent government service to the people that we serve—the poorest of the poor, the vulnerable, and the disadvantaged Filipinos," OIC Leyco said.
"No matter what kind of job you perform under the DSWD, please know that your labor is not in vain as every task you accomplish helps the Department achieve its strategic goals, which include helping to alleviate the lives of the poor from poverty. I urge you, my fellow public servants to uphold the principle of honesty and integrity, and to continue to provide dedicated public service to our clients as the DSWD turns another year older this year," the Officer-in-Charge ended.  (JBM/DSWD)