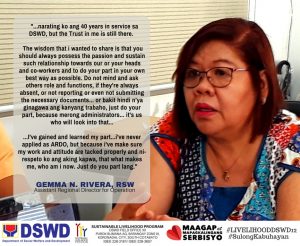 The DSWD Field Office XII Assistant Regional Director for Operation Gemma N. Rivera, RSW on her wisdom shared during the Regional Project Management Office meeting together with the Promotive Services Chief Bonifacio V. Selma, SWO V and the Provincial Coordinators from the clustered provinces of the region. ARDO Rivera gave emphasis on the importance of behavior along with attitude of every employees towards its designations and relationship with co- workers.
" Narating ko ang 40 years in service sa DSWD, but the trust in me is still there.
The wisdom that i wanted to share is that you should always possess the passion and sustain such relationship towards our or your heads and co-workers and to do your part in your own best way as possible. Do not mind and ask others role and functions, if they're always absent, or not reporting or even not submitting the necessary documents… or bakit hindi n'ya ginagawa ang kanyang trabaho, just do your part, because merong administrators… it's us
who will look into that.
…I've gained and learned my part…i've never applied as ARDO, but because i've make sure my work and attitude are tacked properly and ni-respeto ko ang aking kapwa, that what makes me, who am i now. Just do you part lang..
"I could still remember the days na naiiwan ako sa office na magisa at nag o-overtime for some reports that I should be submitting at walang magtuturo sa akin kasi nga wala akong matanongan, but I've learned how to trouble shot things gradually, I've gained my part and you know what, my superiors didn't heard me complaining, I lingered on into the passion of service and lagi kong iniisip at sina-sapuso na I love my work and gagawin ko ang nararapat kong gagawin na naayon sa aking designation. Kaya all I wanted from all you is that, just do your job well, consider the importance ng pagtatrabaho. That is why for 2018, I wanted that SLP will be having a good start, gusto ko na itaas ang SLP…I want SLP to have a positive image..kaya pagtulongan natin ito." ARDO Rivera said. ARDO Rivera however was recognized and received an award for her 40TH year in service during the celebration of the DSWD 67TH year anniversary in Metro Manila last month.
The RPMO meeting agenda was the implementation of the Sustainable Livelihood Program in Marawi and the identification of workers who will be implementing the program, the back logs and the plotting of the staffs per province.
Regional Project Coordinator for Operation Noraidah T. Busran presented to the Promotive Services Chief Bonifacio V. Selma, SWO V the Regional Project Management Office specialist wherein he was so glad to have a work force that are driven and capacitated for Sustainable Livelihood Program.
He added that the beginning of the month of 2018 Sustainable Livelihood Program takes off with the releasing of the PEAF or the Pre- Employment Assistance Fund in the 5 clustered provinces of the region. Most of the program participants who received such funds are the graduates in the Skills Training on Security Services NCI, Skills Training on Massage Therapy,Skills Training on Automotive Servicing NCII, Skills Training on Heavy Equipment Operation NCII and those you are currently employed to the program Employment facilitation partners like Magsigue in the Municipality of T'boli, KCC Mall of Marbel and General Santos, Nirvana Construction in Koronadal, AMCOOP in Polomolok  and other unmentioned partners.