LAMBAYONG, Sultan Kudarat—When days of intense rainfall triggered Ala River to overflow years ago, the rampaging floodwaters swept away several houses and almost submerged the entire Tinumigues and its neighboring low-lying villages here.
The flash floods left the place in widespread devastation that displaced the village's 3, 292 population, affecting a total of 1, 571 hectares of farmland, mostly ready to harvest palay of residents.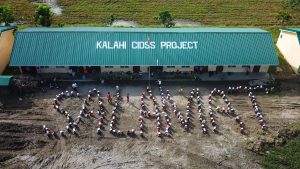 "We just don't know where and how to start again after the disaster," said Eligio G. Morao, the teacher-in-charge of village public elementary school, which was also buried by mud.
"We lost our school and as much as possible we must do something as not to lose the dreams of our children for better future. We need to stand again from the disaster," Morao added.
Piece by piece, the Tinumigues community worked together to put up makeshift temporary classrooms for children by salvaging materials from their old school. However, they had to transfer from time to time to ensure the safety of children during classes hours.
From 420 enrollees, the school registerd only 223 children after three years of the disaster. Many villagers left the community and transferred their children to other neighboring schools.
"It was difficult for us to see your pupils jostling for space. We needed to endure too much heat approaching noontime meanwhile, we got wet during the rainy days inside the rooms," Morao said.
In 2015, the DSWD granted for funding the community proposal for P3.49 million school building project through Kaalahi-CIDSS Program of the agency, addressing the concern of Tinumigues for new school building.
The project is one of the first government insfrastructure projects in the community as part of the rehabilitation efforts in addressing the pressing need of Tinumigues.
The DSWD Kalahi-CIDSS program has also completed its P1.56 million worth of health station with amenties. Tinumigues residents have been suffering from diarrhea and other water-related diseases because of flooding in the place.
Kalahi-CIDSS is one of the poverty-alleviation programs of the government that is being implemented by the DSWD. It uses the community-driven development (CDD) approach, which enables communities in targeted poor and disaster-affected municipalities to identify their own needs, and collectively implement and manage solutions to these needs. (Hilbert T. Estacion, regional social marketing officer, DSWD 12)