KIDAPAWAN CITY, Feb. 9 — The Department of Social Welfare and Development (DSWD) welcomed Friday the latest assistance of Australia and United Nation's World Food Programme for 50,000 children affected by last year's armed conflict in Marawi City in Lanao del Sur.
Most of the children that will benefit the six months of school meals are covered by Pantawid Pamilyang Pilipino Program.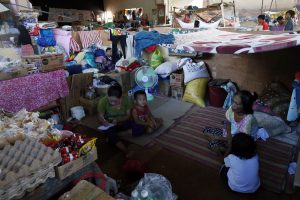 Dennis Domingo, DSWD 12 regional information officer,  said Friday the Australian Government  announced channelling PHP42.7 million (AUD1.1 million) to the United Nations World Food Programme to support the the government's response to the Marawi crisis.
"This is a welcome development and we thank the Australian people and UN for the assistance," he said.
Australian Ambassador Amanda Gorely said Canberra has supported early recovery activities by addressing the immediate food needs of people affected by the crisis.
She said Australia's support will contribute to peace and stability in the area, and allow students to finish the academic school year, which ends in March.
"As a good friend and neighbor, Australia is committed to providing humanitarian assistance when necessary," Ambassador Gorely said in statement.
"Through our partnership with the Department of Education and Task Force Bangon Marawi, we are supporting people affected by the Marawi crisis. Education plays an important role in community-building. We're pleased these emergency school meals will support students' education and development,"  added Ambassador Gorely.
For Stephen Gluning, WFP Representative and Country Director,  they  are mobilizing additional resources to cover the needs of its current operations until May 2018, including early recovery activities that involve food and cash-based assistance.
"We are grateful for our strategic partnership with the Australian Government which allowed us to immediately respond to the Marawi crisis through rice that was prepositioned at the onset of the emergency," said Gluning, adding Australia's support of emergency school meals will enable students to continue their studies while being nourished with a daily meal. (JBM/DSWD)