KORONADAL CITY, February 5 — The Department of Social Welfare and Development welcomed Monday the commitment of World Bank to help people affected by conflict last year in Marawi City.
DSWD 12 regional director Bai Zorahayda T. Taha said the World BanK recently met Finance Secretary Carlos Dominguez III in Washington DC where the global firm reassured to scale up their support for peace-building efforts in Mindanao.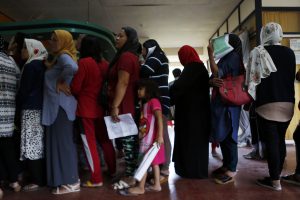 Specifically, the World Bank will support tap domestic resources to raise funds for Marawi's reconstruction.
"This is a welcome development. We thank them for helping us. We are supporting a lot of people in Marawi displaced by last year's conflict," Dir. Taha said.
Jackiya Lao, DSWD 12 assistant regional director for administration, said currently the office is implementing cash for work, Pantawid Pamilyang Pilipino Program as well assisting people get livelihood trainings from partner agencies.
"We need their expertise in reconstructing Marawi because we have limited experience in handling a rehabilitation program of this magnitude," Lao said.
In statement, World Bank chief executive officer Kristalina Georgieva confirmed the institution's commitment to work with the Philippine government in terms of  helping conflict-torn Marawi City rise from devastation.
"We can only express all of our sympathy for what has been going on in Marawi. As an institution that has committed to peaceful development and dealing with conflict situations, we would be honored in helping in terms of [re]building and engaging in any possible way what we can do in this situation," Georgieva said.
Naifah Balindong, regional project coordinator of Pantawid Pamilyang Pilipino Program, said the World Bank cited the ongoing program successful in reducing poverty.
Balindong said at least 12,118 households are currently covered by CCT in Marawi. (JBM/DSWD)