ILIGAN CITY, Feb 22 – More than 2,000 people displaced by last year's armed conflict in Marawi City finished their skills training as part of President Rodrigo Roa Duterte's assurance to help them recover after the war.
Bai Zorahayda T. Taha, regional director of Department of Social Welfare and Development in Region 12, reported Thursday around 2,615 internally displaced persons staying in evacuation centers in Lanao del Norte and Iligan City completed their trainings last month on carpentry, driving, welding, computer servicing, dressmaking, haircutting, electrical installation and maintenance, plaster concrete masonry, and pipe making, and shield metal and welding.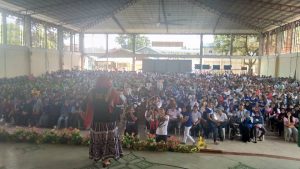 Dir. Taha said the skills training was facilitated by Technical Education and Skills Development Authority (TESDA).
During the graduation ceremony, Dir. Taha said the TESDA distributed toolkits, such as multi-testers, ovens, screwdrivers, and welding machines to the graduates to help them get started.
"On our part we provided the graduates with a Pre-Employment Assistance Fund  amounting to P5, 000 each," she said.
DSWD Officer-in-Charge Emmanuel A. Leyco has earlier emphasized the importance of providing the displaced residents of Marawi with sources of livelihood so they can regain their dignity and self-worth.
"We have adjusted our programs, including the sustainable livelihood program, to accommodate the needs of the displaced people of Marawi. We have partnered with other government agencies to provide the IDPs with livelihood activities that they themselves can implement and carry out. Through these, we can help them recover and eventually stand on their own feet and rise again," OIC Leyco explained. (JBM/DSWD)