KORONADAL CITY, March 5 — The Department of Social Welfare and Development will construct a healing center for people still struggling to recover after last year's five month armed confrontation in the Islamic City of Marawi.
Bai Zorahayda T. Taha, DSWD 12 regional director, announced Monday during the flag ceremony the building, Marawi DSWD Healing Center, is intended for families that will undergo psychosocial healing and recovery programs.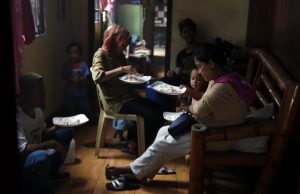 "It's like a daycare center for women, children, and the elderly still experiencing trauma and stress," she said.
In Manila, DSWD Officer-in-Charge Emmanuel A. Leyco said the construction of the DSWD Marawi Healing Center is part of the continued commitment of the state to assist the internally displaced persons of Marawi.
"The healing center will be devoted to the continued healing and recovery of our Maranao brothers and sisters as they get back on their feet and take the step towards the road to recovery. Having a center specifically intended for their use will give them their privacy and  better guarantee their rights to  freedom of expression," OIC Leyco said.
Dennis Domingo, DSWD 12 regional information officer, said the agency allotted  P46.1 million funding for the project. (JBM/DSWD)