KORONADAL CITY, March 5 — Members of Men Oppose Violence Against Women Everywhere honored Monday women employees of Department of Social Welfare and Development as part of this year's Women's Month celebration.
"Today is not just any other day. For many years, women, all around the world, have played a crucial role in our societies…not only to improve their situations but also to fight for a better, greater more equal society," said Rommel Camaganacan, MOVE president.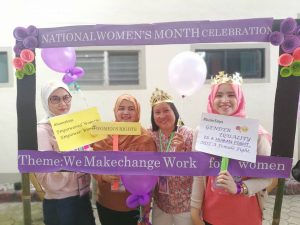 "For us, just like so many influential men on the planet, women are playing an important role in our daily life.  We believe that our progress here in our office- DSWD- has been the result of countless extra ordinary women," he added.
During the flag ceremony at the office of DSWD 12, men gave balloons to women employees.
"The women sector is a potent force in promoting social welfare and development. Let us celebrate our gains in our continuing advocacy to fight for our rights as well promotes women welfare," DSWD 12 regional director Bai Zorahayda T. Taha said.
This year's theme of the celebration is "We Make Change Work for Women".
The DSWD earlier vowed to uphold the rights of women under Republic Act No. 9710 or Magna Carta for women.
The Magna Carta was passed into law on August 14, 2009, affirmed the role of women in nation-building, assured the "substantive equality" of women and men, and declared as state policies the empowerment of women, providing them equal access to resources and development results and outcome.
At the same time, the law acknowledged that the "equality of men and women entails to abolition of the unequal structures and practices that perpetuate discrimination and inequality." (DSWD)