T'BOLI, South Cotabato —At the crack of dawn against the cold damp weather, trekking the seemingly never-ending steep slopes through trees and leech-infested streams of Barangay Tudok proved a struggle for Leni Tahay, 25.
Carefully trying to trace the correct route, Tahay beams at the thought of a future away from poverty that sunken the tribe deep in the rustic setting of T'boli town for generations. The ancient trail is not easy for Tahay to reach the town center, eight hours of walk off from the distant Tudok.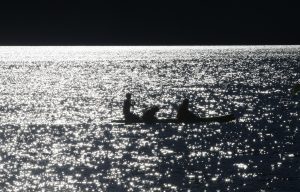 "Down there, something is bigger that could affect our lives await us," she said, her four young and robust-looking children in tow.
In the midday sun one recent Sunday, the festive mood in the town's gymnasium set at the backdrop of blown-up image of boxing icon Manny Pacquiao guaranteeing a brighter future for the poverty-stricken poor, Tahay and a thousand more mothers and their children in tow, in one voice, rally for better services in health, education from the government.
Various government agencies led by the Department of Social Welfare and Development staged and event in the town's gymnasium that aims to maximize social impact of the agency-led poverty-reduction programs, and other public services and products.
The venue gathered mother-beneficiaries of the conditional cash transfer (CCT) program or the Pantawid Pamilyang Pilipino Program who were acquainted to a much more government services promising to improve their lives.
"This is just one of the many more village assemblies held nationwide. This signifies our rigorous effort to bring beneficiaries closer to opportunities and ensuring that their voices are heard, not only for them but especially for their children who are the real beneficiaries of this program," said Bai Zorahayda T. Taha, DSWD regional director.
Tahay's four children along with other 5,000 beneficiaries in T'boli town are in the list of the CCT since 2010.
Tahay whose family lives through subsistence farming and gets around P 100 a day said the P1,400 cash rant they receive each month bridges the family's meeting both ends. "We were born poor, uneducated, nothing has changed through the years.  But not my children. I promised a better life for them when they become adults."
In addition to that,  she will get  PHP2,400 from the Unconditional Cash Transfer to help her cope with the effects of the new tax reform bill and a monthly PHP 600 rice subsidy.
With the money she regularly receives, Tahay shares: "Now I can buy the food, vitamins, provide daily allowance and school needs of our children."
Teary-eyed she claimed that on rare occasions, she treats the kids to Jollibee in Koronadal City.
"Just for my children to get the feel of city life to challenge them that there is more to life than in our village," she cited.
Tahay said, her school aged children Rennie Boy, 9; Jigger, 7; Alexander,6 and Christy Jane, 4—all under the CCT program are all excited to go to school every morning. "I promised mama and papa that I will do good in school to achieve our dreams of an improved life," Rennie-Boy said, who is in grade three in Tudok Elementary School.
Considered not a dole out program, beneficiaries are expected to submit to the required conditions before they get the money.
Under CCT,  the government allocates grants amounting to P500 to P1, 400 for each beneficiary household, depending on the number of eligible children. Each family is allowed a maximum of three children to receive the monthly benefits provided they have to stay in school and maintain class attendance of at least 85 percent each month.
At the same time, pregnant women are also required to avail pre- and post-natal care, and delivery must be assisted by skilled health personnel, while parents are mandatory to take "family development sessions" to enable them to become better parents.
South Cotabato  Governor Daisy Avance-Fuentes challenged the beneficiaries to follow the conditions set in the program, urging them to utilize the fund for its intended purpose.  "This is your lifeline to your children's future, so you've got to do your part because the government puts in a large chunk of the budget for you.  Get to do your share."
Avance-Fuentes rolled out the challenge as stories of loansharks preying on beneficiaries' cashcards, or the latter pawning their cards for immediate cash. In some instances, fathers use the cash for cigarettes, liquors, or in gambling.  (JBM/DSWD)