KORONADAL CITY, March 7 — The government wired nearly half billion pesos additional grants in bank accounts of beneficiaries of state's anti-poverty program in Central Mindanao to help them counter the effects of new tax reform bill.
Bai Zorahayda T. Taha, Department of Social Welfare and Development regional director, said Wednesday at least 182,818 households of Pantawid Pamilyang Pilipino Program  can now withdraw their PHP2,400 Unconditional Cash Transfer (UCT) money in any ATM machines in the region.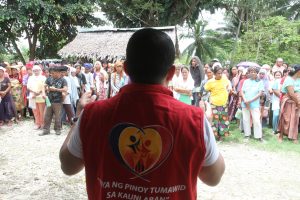 "It was deposited in their accounts March 6. The money of other clients without cashcards will be given to them by Land Bank in between March 19 to April 19," she said.
Naifah Balindong, regional project coordinator of the program also known Conditional Cash Transfer,  said about 10,818 households affected by last year's conflict in Marawi City covered by the program, also received their additional cash grants.
"The additional monthly subsidy of the government is Php 200.00. The money given to them covers from January to December this year," she said.
Balindong said all in all, the government gave Php  437,412,000.00 for Region 12 and  PHP 25,964,200 for Marawi City.
The UCT is a program of the DSWD to help the country's poorest families cope from the effects of the Tax Reform for Acceleration and Inclusion Law.
This year, each beneficiary will receive P200 per month while in 2019 and 2020, the subsidy will increase to P300 monthly. Nationwide, the 10 million beneficiaries of UCT comprise the following: 4.4 million are beneficiaries of Pantawid Pamilya, three million are indigent older persons under the Department's Social Pension Program while 2.6 million are from the Listahanan poverty database of the Department.
Earlier, DSWD Officer-in-Charge Emmanuel A. Leyco said the UCT was developed as component of the national government's Tax Reform for Acceleration and Inclusion or TRAIN program.
"The DSWD was given the responsibility by congress to implement the distribution of the P200 per month UCT, and we will carry out that responsibility the most efficient way that we can," he said.
"We understand the immediate need of many Filipinos for economic assistance from the government in the wake of the implementation of the TRAIN which has caused an increase in petroleum prices. We aim to finish the distribution of the UCT to all 10 million beneficiaries before the end of June 2018," he added.
Gemma Rivera, DSWD 12 assistant regional director, said the UCT is on top of  beneficiaries' regular cash grant and P600 rice subsidy from the program.
Under CCT,  the government allocates grants amounting to P500 to P1, 400 for each beneficiary household, depending on the number of eligible children. Each family is allowed a maximum of three children to receive the monthly benefits provided they have to stay in school and maintain class attendance of at least 85 percent each month.
At the same time, pregnant women are also required to avail pre- and post-natal care, and delivery must be assisted by skilled health personnel, while parents are mandatory to take "family development sessions" to enable them to become better parents. (JBM/DSWD)